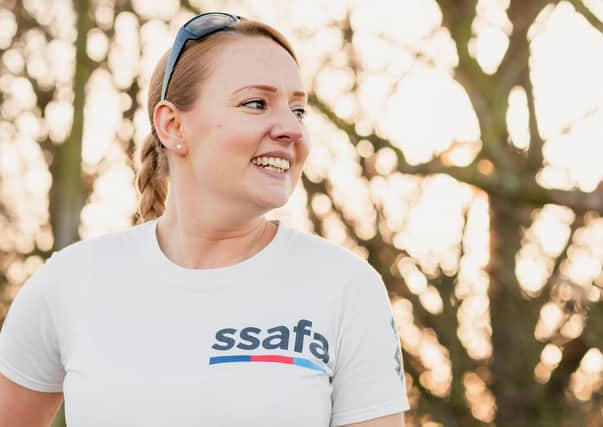 Flight Sergeant of Bespoke Languages, Gemma Slaughter, a SSAFA volunteer from Ruskington, has given up her spare time during the pandemic to help serving personnel, while managing a debilitating condition and carrying out mental health first aid support to help people who are struggling.
SSAFA says she is an: "incredible woman".
Gemma first got involved with SSAFA when posted to Lincolnshire a few years ago.
"We wanted to renovate a Junior Ranks' welfare facility on camp and approached the charity for some funds," she said. "They said they were happy to help but I then found out that their local tri-station SSAFA committee didn't have any representation from my station, so I volunteered to be a representative. It was my way of saying thank you for making the renovation happen."
Since then she has actively been involved in everything from representing SSAFA at air shows, to holding annual collections at her station bonfire and recruiting 100 people to take part in a 1,000 mile challenge which raised more than £5,000.
Gemma says her next big challenge is 85 kilometres of treks in Banff National Park in Canada: "My husband and I will be walking through the Valley of the Ten Peaks, with a fundraising target of £1,885.
"We're doing eight treks over five days and we'll do our last stretch at Lake Louise which is 1,885m above sea level."
This challenge will be particularly difficult as Gemma suffers from a chronic pain and fatigue condition called fibromyalgia. She said: "I'm in pain every second of every day and my energy levels are drastically affected. I've not been able to train because it increases the pain I'm in, and hiking in the mountains is going to be really tough – but I've never given up yet, so I'll definitely finish it.
"The fundraising can't ever stop because SSAFA's work is so important."
She said: "I know on a local level, through our tri-station committee, that we've sponsored youth projects and sports teams. There are Stepping Stones homes for people who are leaving violent relationships or are at risk. SSAFA offers respite breaks for families with disabled children, adoption services, bereavement support, as well as casework."
Gemma became a mental health first aider and suicide intervention volunteer, as a result of her mother taking her own life. "She suffered from fibromyalgia, rheumatoid arthritis and mental health issues and she just couldn't cope anymore," Gemma said. "Through this work, I often refer people to Forcesline and signpost them to SSAFA services for financial assistance and pastoral or welfare support. Together we can do a lot for at-risk people.
"I also feel supported, knowing SSAFA is there if I ever needed help too.
"I had thyroid cancer, and I understand the financial and emotional burden that can bring for some people. I was extremely lucky that the unit I worked at looked after me really well, and I didn't need SSAFA support myself, but it's reassuring to know they would have been there if I did need them."
"I'm so grateful for the support SSAFA offers our forces, veterans and their families – I've seen it in practice many times."