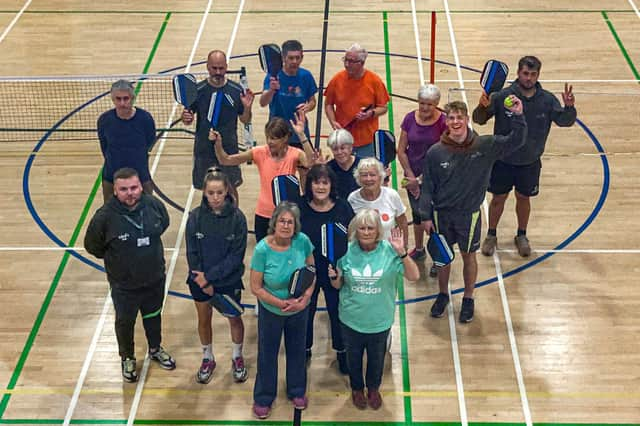 Pickleball has already taken the United States by storm and is growing in popularity across the world including Japan, France, China and Spain, and now the UK.
The game is played either indoor or outdoors, singles or doubles, and follows much the same rules as tennis or badminton.
Competitors hit a plastic, perforated ball over a low tennis net with a large racket similar to a large table tennis bat.
The ball is served underhand from the right side of the court, played diagonally, and the defending side has to let the ball bounce first before it can be returned.
The serving side also has to let the ball bounce and it's on the third ball that it can be returned immediately.
Points can only be scored by the serving side, and you win a point if the defending side does not manage to return the ball, hits the ball out, does not let the serve ball bounce, volleys in the non-volley zone, or is hit by the ball. The game ends when one of the parties gets 11 points, or a two-point lead.
The sport reached the ears of Carolyn Young in Louth after her sister-in-law, who lives down in Essex, told her all about the unique game.
Eager to get involved here in Lincolnshire, Carolyn discovered there was a group in Lincoln, who gave her a demonstration and she decided to approach the Meridian Leisure Centre to enquire about setting up a group here.
Taster sessions now run on Tuesdays from 3pm to 4pm, and now Carolyn and the team are urging anyone who would be interested in having a go at the low-impact sport to come along.
"It's a sport for all," Carolyn said, "We've got a lot of older people who like to play it and you can play it as either single or doubles.
"It is easy to play and simple to learn for people of all ages."
More than a dozen pickleball plays attended the taster session, and these sessions will run until December when a decision will be made about whether to make to sessions permanent.
Liam Fay, Community Development Activator for the Magna Vitae Trust for Leisure & Culture, said: "Magna Vitae have purchased all the equipment and set up the first pickleball club in our area.
"It combines elements of Tennis, Badminton & Table Tennis is a fun and unique way. It is also of the few sports that allow mixed gender teams.
"It is really easy to play and we have a great mixture of players & abilities, ranging from six to 70 who can all play together.
"We'd love to see more families come and take part together. Everybody is welcome."
To enquire about joining Louth's pickleball team, email [email protected] or call the Meridian Leisure Centre on 01507 607650.