Gloves out as Special Motion calling for Skegness Town Council to carry on cutting grass verges fails
Gloves were out when town councillors were called on to vote again on whether they would carry on cutting grass verges in Skegness.
Watch more of our videos on Shots! 
and live on Freeview channel 276
Visit Shots! now
A Special Motion calling for the recission of a previous decision by Skegness Town Council to hand the responsibility for cutting the verges back to Lincolnshire County Council to save an increase on the precept failed at Wednesday night's meeting – but not before a debate that saw the Chamber once again divided.
The precept for 2024/25 is still to be agreed – but a group of nine Conservative, Labour and Independemt councillors said they were calling for the 'rethink' to save a street team job and to keep the town 'looking tidy'.
That would mean continuing the 12 cuts a year instead of just three funded by LCC since their own funding cuts in 2017.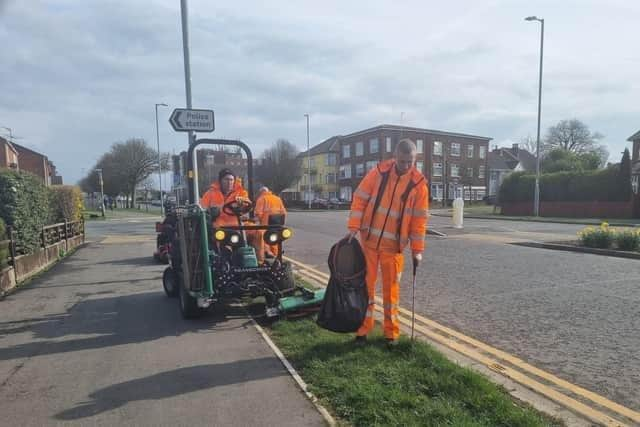 The 'nine' claimed it would cost ratepayers 'less than £1 a year' to achieve this – but SUDS maintained many residents were 'on the breadline' and couldn't afford any more rises.
One of the 'nine', Conservative councillor Julie Sadler (Con), delivered a statement saying: "It's outrageous that councillors in this chamber wish Skegness to look unkempt with two foot high verges.
"We have to support our residents and do not want our verges to stop being cut.
"I will not support a redundancy within this council.
"Redundancy is always a last resort – it is bad any time of the year but just before Christmas is unforgivable."
Leader of the SUDS, Coun Danny Brookes said he could not support the motion on a matter of principle as a 'democratic vote' had already been taken.
"Reversing a democratically taken vote undermines the very essence of the trust our residents have in us,"
He accused the councillors calling for the Special Motion of 'being out of touch' with what residents want.
"I was speaking to a resident last week and mentioned the grass and she said 'I work and I have to decide whether to shame myself and ask my family for help or go to the food banks.
"All you are worried about is grass verges – I'm worried about feeding my kids."
Coun Sid Dennis (Con) said after being a councillor for 30 years he was ashamed of the council for the previous decision.
"We are in the position now where a Band A property it is 97p a year between what you want to charge on the precept and what we want to go up to not make someone redundant and to cut the grass.
"I've been a councillor for 13 years and I'm ashamed of you – absolutely ashamed."
After the vote on the Special Motion, Mayor Coun Pete Barry said he was pleased with the outcome.
"It's the right thing to do," he said. "It was a democratic vote. I am only thinking of the community and to save money.
"A lot of councils are suffering financially – including Leicester council which could go bankcrupt.
"I don't wish Skegness Town Council to go Bankcrupt.
"In my mind the grass verges did not need to be cut so often. It's not all the grass which isn't going to be cut
"The playing fields and Tower Gardens will be cut – it's just the verges.
"we can save money we can survive and there are a lot of people in Skegness on the breadline and they can't afford it at the moment.
"When things improve we can look at it again."
However, this will not be the end of the matter, according to Coun Dan Kirk (Con), who had voted in favour of the grass being cut by Skegness Town Council.
"We won't see the fruition of the problem until the springtime when the grass gets rediculously out of control.
"This is very frustrating but clearly a political decision for the sake of saving just over £8,000 – it's a very sad state of affairs when we are talking just under £1 a year to cut the verges to a better standard.
"We will press on with the petition, We are all about ensuring the residents get the best service – not a reduction and a cutting service.
"The precept is always going to be a controversial topic.but ultimately we have to deliver the best value for residents."
The petition – Keep Skegness tidy - Cut the verges ! – was launched by another Conservative councillor, Coun Steve O'Dare, who was on holiday when the meeting took place.
It states: "As a resident and town councillor of Skegness, I have always taken pride in the beauty and cleanliness of our town. Our visitor economy thrives on this aesthetic appeal, and it is a source of joy for us locals as well. However, the recent decision by the Skegness urban district society led Skegness Town Council to stop cutting grass verges within the town has left many of us deeply concerned. This action not only tarnishes the image of our beloved town but also leads to job losses among local people who are already grappling with high living costs.
"For six years, these grass-cutting services have been an integral part of maintaining our town's charm. The decision to remove this service seems like a misguided attempt at cost-saving that overlooks its long-term impact on both the townsfolk and our economy.
"We urge SUDS councillors to reconsider their stance on this matter and put Skegness first. The small savings achieved each week do not justify the damage caused by such an exceptionally poor decision.
"Let's stand together for a cleaner, greener Skegness that we can all be proud of. Sign this petition today and let's urge Skegness Town Council to continue with its grass-cutting services!"
The petition can be found on change.org here.