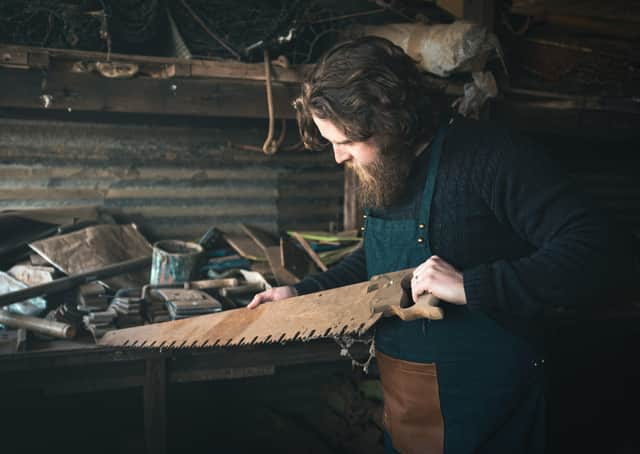 Rob Fawcett is one of a team of experts who help transform treasures into beautiful and functional items.
Rob was put forward for the show by Chris Billinghurst who runs The House of Upcycling.
Rob said: "I owe Chris the earth - she has been brilliant.
"Taking part in Saved and Remade was a fantastic experience.
"We are hopeful that if the viewing figures are consistently good, the BBC could do a second series - it would be nice to keep that momentum going."
It isn't the first time that Rob has been on out TV screens.
While renovating his family home, Rob enjoyed watching interior and design shows.
He took the leap and applied for the Great Interior Design Challenge - but it came at a cost.
At the time, Rob was on the final module of an online interior design course - but one of the requirements for taking part in the show was that contestants had to be complete amateurs.
He said: "I got about half way through the competition so I was pretty chuffed with that.
"Being on the show was the catalyst to pursue design.
"The show gave me that nudge and confidence boost.
"It was everything I needed to get me going."
Rob decided to set up his own business - Raw Home - alongside his full-time job at an engineering company.
Raw Home focuses on simple, clean and effective design through the use of reclaimed materials.
As the business grew, Rob left his full time job and pursued a part-time job doing drum therapy.
Rob said: "Two years ago the design business was at a point where I had to sacrifice either the drumming or the business and I didn't want to give up on my dream.
"The business has gone from strength to strength and then I got involved in Saved and Remade."
Rob says that his family upbringing peaked his interest in the interior and upcycling industry - although he never knew that design could be a career for him.
He said: "From quite a young age, I remember doing projects and roping my dad in to help me.
"The design side of things never stood out to me as a career - I thought it was something you did, not a paid job."
As part of his business, Rob sources and sells wood cladding for interiors and says demand has increased over the last year due to the Covid-19 pandemic.
He explained: "A lot of people got involved and had a go at upcycling in the comfort of their home.
"I do a lot of wood cladding for interiors and that side of the business went crazy.
"It indicated that people are doing lots of different projects."
Rob, who grew up in Hull but moved to Grasby several years ago, says he supports 'local' where possible and would be keen to build business connections in Lincolnshire, particularly with companies who have similar ethical values.
To find out more, visit https://www.raw-home.co.uk