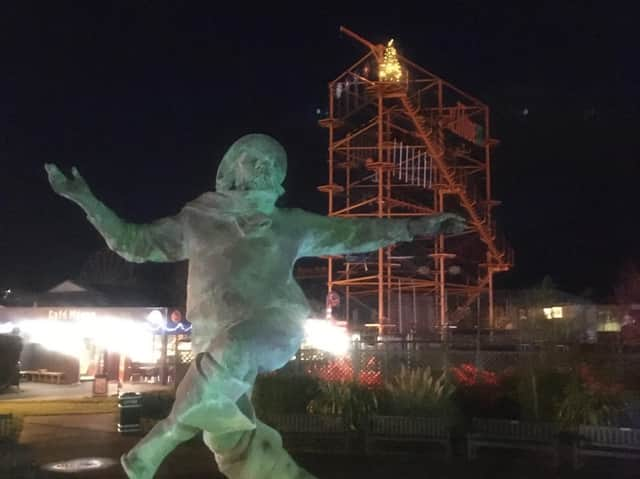 You could win a prize by guessing the height of the Christmas Tree on Altitude 44.
But can you guess the height the festive tree is at its very tip? Tell us - and the closest guess will win some fabulous treats.
The Skegness festive lights are now on. Switched on at The Hildreds Shopping Centre, with the help of the Embassy's wonderful Panto characters from this year's show, Jack and The Beanstalk, the event marked the official start of Christmas in the resort.
And the team at Altitude44 got into the Christmas spirit too, with manager David Sneddon scaling the heights of the high wire adventure – complete with the tree. From now until the New Year, it will be shining from the highest platform, but asks David, do you know how high it is from the ground to its top?
"While people may remember how tall our great high wire is, but from the ground and looking up can they actually work out how tall it is from the bottom of Altitude44 to the top of the tree, which is sitting on our highest platform – that's a tester for you all," challenged David.
By 5pm on Friday, December 20, David wants anyone walking past to look up and send in their guesses. Our very own David 'Santa' Sneddon is offering the following prizes for the closet guess to the correct height:
 A family pass to Altitude44;
 A Christmas pizza meal for four (four pizzas and four drinks) at the wonderful Café Magna next to Altitude44. Serving great food, authentic stone-based pizza, the Proud to Serve Costa brand and a selection of snacks, the venue is open during the winter season;
 One month's free family pass at the Skegness Pool and Fitness Suite (based on two adults and two children or one adult and three children);
 A pair of tickets to Jack and The Beanstalk at The Embassy Theatre.
The above fantastic venues are all managed by the Magna Vitae Trust for Leisure and Culture, the charitable trust that helps you to Look Great, Feel Great and Live a Great Life!
Email your answers by Friday December to [email protected] Alternatively, you can post your answer on Altitude44's Facebook page.