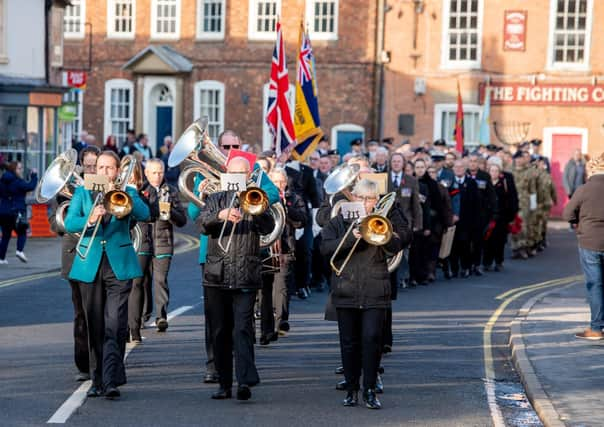 In a letter to Remembrance parade organisers across the county, advice and guidance has been offered to help events run smoothly this year.
The offer of further support comes after The Royal British Legion published new guidance that says legion members cannot be involved in the organising or facilitating of road closures for Remembrance parades.
Instead, any road closure for a parade should be organised by the local civic authority – for example the town or parish council.
This change in guidance comes after an incident where a member of the public was injured at a parade in 2018.
Chief Inspector Phil Vickers from Lincolnshire Police said: "A parade is not the Remembrance service in itself, but some areas have enjoyed a long history of holding a parade on the public highway.
"Parade organisers will just need to take stock of their plans this year, to make sure they can still go ahead.
"Lincolnshire Police and the county council are fully supportive of Remembrance Day parades, so please get in touch with us if you are unsure how Covid-19 restrictions or the new British Legion guidance will affect your event."
Event organisers will also need to adhere to Government guidelines on social distancing this year, and the council and police are able to offer advice to them on safety at their events.
Karen Cassar, assistant director for highways at Lincolnshire County Council, said: "We have delivered awareness and safety training to over 100 Remembrance parade organisers since 2018, and we're continuing to offer help this year.
"Last year there were 35 Remembrance parades across Lincolnshire.
"We have written to event organisers to alert them to the change in the Royal British Legion's policy.
"In some areas, road closures are already organised by the town or parish council, but those that aren't, or which use British Legion volunteers to facilitate the closure, will need to make alternative arrangements."
Clerk at Horncastle Town Council, Amanda Bushell, has confirmed that the town council do not think it will be possible to have a parade this year.
In a statement issued on Monday, Amanda said: "I met with a member of the 
Horncastle branch of the RBL on Friday, and we do not think that it would be possible to have a parade this year as suspected at this month's Horncastle Town Council meeting.
"We are intending for some wreaths laid on Sunday, November 8, and the bugler play last post, but due to the change in Government rules from September 14 we are having to restrict this to six people.
"Therefore, we will be asking the organisations that usually lay a wreath to lay these in their own time in the days leading up to Remembrance Sunday so that they are already there on Remembrance Sunday.
"The RBL and Horncastle Town Council will lay theirs on the Sunday morning.
"As the advice seems to be changing on a daily basis, arrangements for Remembrance Day will be confirmed at the Horncastle Town Council meeting on October 13.
"A joint press release from Horncastle Town Council and the Horncastle branch of the RBL will be issued following that meeting so that we can make residents aware of the changes."