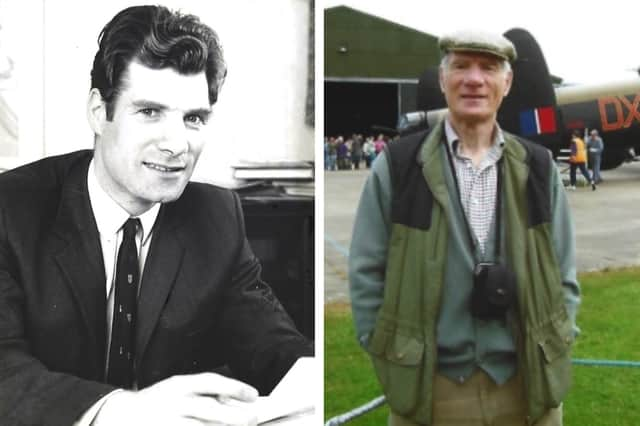 Ivan Stimson, of Sibsey, worked at the council from 1971 to 1992 initially as borough surveyor, then, following a change to his job title, as director of planning and technical services.
One example of his work from The Standard's archives relates to the construction of John Adams Way.
In 1973, during a two-day public inquiry into the latest phase of the plan, he said the road had to be built as soon as possible if the town's character was to be preserved.
Damage resulting from heavy traffic through the town centre was eroding its character and environmental characteristics, he said.
Ivan was born in Norfolk but moved to Boston when he took the role at the council, then aged in his mid 30s. He relocated to Sibsey in 1990.
Ahead of his career in local government, Ivan was among the last to be called for National Service.
He served in the Junior Leaders Regiment of the Royal Artillery in a teaching role and was first stationed in Hereford and then Nuneaton, where he met his late wife Barbara. He left at the end of his two-year term in 1960, the same year when National Service came to an end.
Beyond his role at the council, Ivan was an active figure in the community.
A keen bowler, he was a member of Sibsey Bowls Club for more than 25 years, during which time he served as team captain, committee member and later as committee chairman, only resigning due to ill health. He was also secretary of the Coningsby Bowling League.
Alongside this, he was a former chairman of the Sibsey Branch of the Royal British Legion and served as a parish councillor. He also enjoyed playing cards and dominoes and was a regular at the pub in Sibsey on games night.
Ivan died in January and his funeral took place at St Margaret's Church, Sibsey, last month.
He was predeceased by Barbara in 2017. The couple was married for 57 years.
He is survived by three children, Lorraine, Kay and Christopher, and their families, and his younger sister Sylvie.
Speaking to The Standard, Lorraine said: "[Dad] was a caring father and his priority was always to provide for his family. He was sociable and loved being involved in local issues in the village."
"He was a true gentleman, a great conversationalist, and formidable Scrabble player, and we miss him enormously," she added, saying also he was 'very passionate' about his work.
Of Ivan, a spokesman for Sibsey Bowls Club said: "He was well liked, good-humoured, friendly and helpful and will be sadly missed."