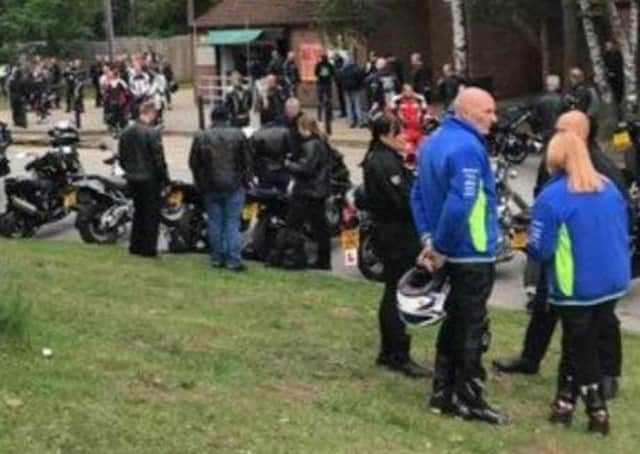 In a post on social media, West Lindsey District and Market Rasen Town Councillor Stephen Bunney has criticised a lack of social distancing at the popular meeting spot for bikers - and a lack of action to tackle the problem.
Referring to the picture opposite, Coun Bunney said: "[It's] a Covid-19 health hazard.
"Numerous residents, including myself, have reported this problem to Lincolnshire County Council (owners of the land in the photograph) and the police - little if anything has been done to resolve the problem.
"Coun Giles McNeill, leader of West Lindsey District Council, has agreed to support local residents by writing to officials at the county council, the chief constable and the police commissioner formally asking for an explanation - and a promise that action will be taken.
"Hopefully, his intervention will be successful and locals can feel that bit safer as a result."
Responding to Coun Bunney, resident Roger Allenby described the bikers' actions as 'very foolish'.
A Lincolnshire Police spokesman said: "We actively patrol the Willingham Woods area and speak with those who visit.
"It is essential that we all continue to follow the social distancing guidelines to protect each other and help save lives."
Lincolnshire County Council executive member for countryside, Coun Eddy Poll, also urged residents to follow social distancing rules.
Coun Poll said: "Willingham Woods is a very popular meeting point to enjoy a coffee and the nice surroundings.
"We understand the issues around Covid-19, and would remind visitors to continue to be responsible and adhere to social distancing guidance."
WLDC leader Coun Giles McNeill confirmed he had written to the chief constable at Lincolnshire Police and the police and crime commissioner.
He said: "I am seeking assurance that the necessary steps are being taken within the requirements of the law to keep people in our district safe.
"People who do not keep to the guidelines do present a greater risk to the public.
"The government has made it clear that each individual needs to take responsibility for their own actions in order to help control the spread of the virus.
"Alongside this, the government has granted powers to the relevant agencies to ensure, in some circumstances, this can be enforced.
"We will continue to liaise with the relevant partners, business operators and landowners to provide advice and guidance to enable the spaces to function and operate safely.
"It is essential that we all work together to ensure these spaces feel safe and to enable all residents to enjoy them."