Alford Silver Band came up with the idea as a way of offering a sense of unity to the families living with war and those fleeing the country.
"Like everyone, we are all shocked as individuals by the dreadful events happening in Ukraine," explained the band's chairman, Mike Green, "and each band member is looking to find their own way of supporting this brave population. But we felt that as an organisation, we would also wish to show our support collectively.
"Musical director, Josh Wilkinson came up with the idea of starting the rehearsal by playing their very stirring National Anthem. And it did give us a sense of unity with the people of Ukraine, and the millions of their own musicians whose freedom to perform is being prevented by the unprovoked aggression of Vladimir Putin."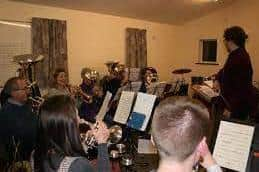 The band recorded themselves playing the anthem and intend to post this recording on their Facebook page and their Youtube channel.
"As an expression of our solidarity for the people of Ukraine, we will probably continue to start rehearsals with the Ukrainian anthem until this crisis is over," concluded Mike. "It is not a particularly tangible way of giving support, but I hope that Ukrainian nationals in this area will hear of what we are doing and will know that they and their countrymen are very much in our thoughts as we play."