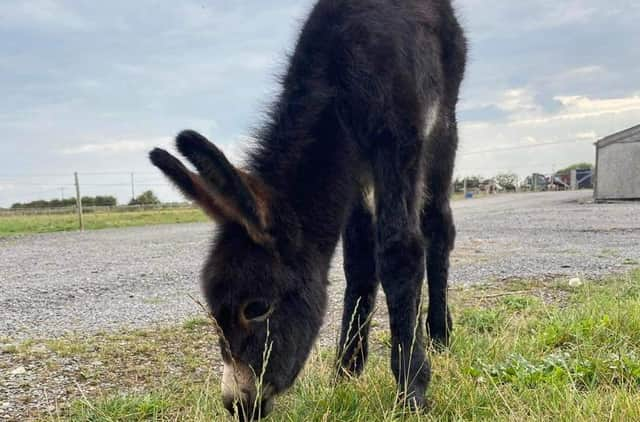 Kye was born last year amidst a crisis for his owner John Nuttall, who had been the victim of a burglary and was facing an uncertain future for his donkey ride businesses along the coast.
However, the public rallied with support after Kye was rejected by his mum and surrogate.
The little donkey eventually found comfort in a foster home and was pictured resting on the settee in a nappy, apparently thinking he was dog.
More recently he was a popular character in John's yard, where the donkeys are stabled.
"It was just a freak accident," said John. "We had a look at the CCTV footage and Kye's dad had been rubbing his head on the gate and it just fell over and crushed Kye's leg.
"We asked the vet if there was anything at all we could do as Kye wouldn't be a working donkey just a pet but the leg was broken in too many places and they cannot walk with three legs so we were told the kindest thing would be to put him to sleep.
Lincolnshire World had told the story of how the bond formed between Kye and John inspired him to carry on fighting to save his donkeys. John, whose family have operated donkeys on Skegness Beach for three generations, added: "It has been a journey and a half the past six months but Kye made everyone on this yard smile. We are all devastated."
John and his teenage daughter Thalia, who is the new manager of the family business, are now preparing to return to Skegness beach for the 2022 season with a few changes.
Following the retirement of Chris Epton, who also ran donkey rides in Skegness, the Nuttall's plan to take on that business, but want to hand over their pitch in Mablethorpe to someone new.
"I'm offering to set whoever would like to take this on up with the donkeys and everything they need to apply for a pitch at ELDC because we are taking on Chris's businesses and we want to concentrate on the Skegness donkeys," explained John.
"It's going to be another tough year. We have 80 donkeys to feed before we take on more and are facing rising fuel and hay costs.
"In addition to this we've had difficulties locating a vital part we need for the vehicle we use to ferry the donkeys to the beach because it is made in the Ukraine.
"We are determined to carry on, though - we have to do it for Kye."