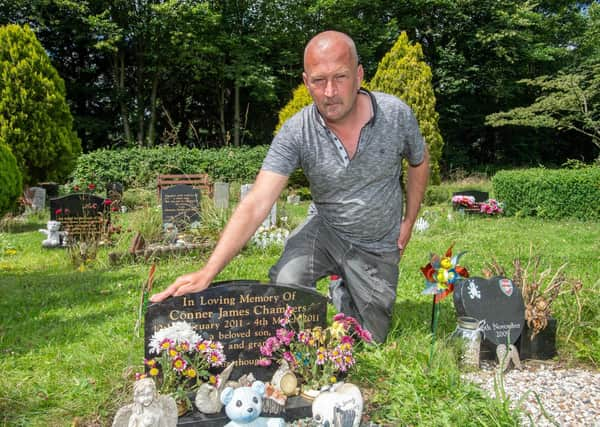 On Monday morning, Darren Chambers visited the grave of his son Conner James Chambers, who was born on February 10, 2011, and sadly died just three weeks later.
When Darren arrived at Louth Cemetery, however, he discovered that a marble headstone ornament - placed at the foot of the grave by his mother and his late father shortly after Conner's death - had been picked up and thrown across the cemetery, landing several metres away from where it was supposed to be.
Unfortunately, this is the second incident at Conner's grave, as some brand new ornamental fencing around the grave was ripped up and stolen in July last year.
A similar incident happened elsewhere in the cemetery last month, when a brand new vase was stolen from a graveside and replaced with a dilapidated old one.
At the time, Lincolnshire Police said they were 'saddened' by the incident, which would have 'caused the family distress' at a difficult time.
Speaking on Monday afternoon, Darren told the Leader: "It's my son's 10th birthday on Wednesday (February 10) and I can't cope with much more of this."
Darren believes it is a targeted attack, and said it has been affecting his anxiety, adding: "I don't know how much more I can take."
• If you witnessed the latest incident, or if you have any information, get in touch with Lincolnshire Police by calling 101.