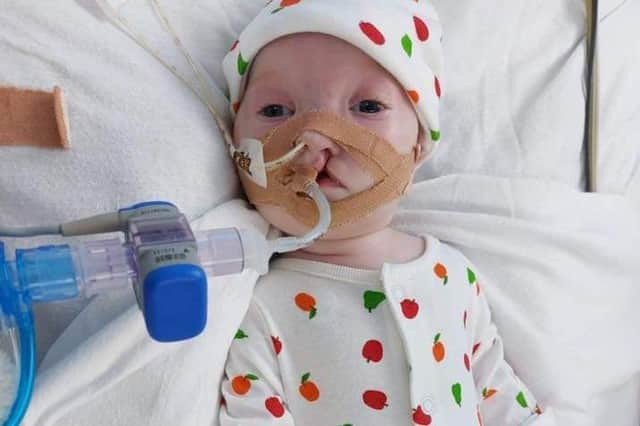 Five-month-old Dottie has been diagnosed with a terminal illness and is currently in intensive care at Queen's Medical Centre in Nottingham with her parents Rew Harrison and Jade Moss by her side.
For such a little girl, the number of conditions she battles on a daily basis is heartbreaking - she has chromosome four deletion, two holes in her heart, brain damage that will cause seizures, gastroesophageal reflux disease (GERD), cleft lip and palate, low muscle tone, glue ear that requires a hearing band and unsafe swallow, meaning carers have to suction her to ensure she does not choke on her own saliva or inhale her sick.
"She has pulmonary vein stenosis, which basically means that the veins between the lungs and the heart in the left side of her heart are greatly narrowed, causing high pressure in her heart," explained Rew.
But recently Rew and Jade saw her smile for the first time in months - and they are not ready to give up on her yet.
Dottie was recently moved to QMC having spent some time at Leicester Children's Hospital where she underwent an operation.
It's almost as if she senses she is closer to home say her parents - and she has even shown some improvement.
"She has been doing well and has managed considerable amount of time free from CPAP or any oxygen supplement," said Rew.
"We are absolutely amazed by this as she has been on oxygen since four weeks old.
"The CPAP has caused some serious pressure marks on her face and head, so we are happy that she is managing without it for some time, to give her some time for her skin to heal.
"Dottie seems to be happier now she is back at QMC and we have seen her smile for the first time since leaving for Leicester."
It was a moment her parents feared they would not see. Before being transferred, Dottie had to have a scope on her airway to assess for damage, blockages or a reason why her lungs needed high pressure to keep airways open.
"We were told five times by different professionals that they were fully prepared for Dottie's heart to stop during the procedure and she would have to be put on a heart support system," said Rew.
"This also wouldn't be a long-term solution - it would just give us enough time to say goodbye to her.
"As you can imagine the day was full of trepidation - we didn't know if we were saying goodbye to her for the last time as she headed for theatre.
"We are so glad to say the survived the procedure.
"Although we are happy she is doing well we are still sad to think that this will not change her end result and she is still classed as terminal.
"However, it may be that we can spend some time at home with her with the support of the community palliative care team or at St Andrew's Hospice in Grimsby in an attempt to get her bogger to potentially have some surgery that may slightly prolong her life.
"We are overwhelmed be everyone's ongoing support."
To help the family, the local community has rallied to organise 'A Day for Dottie' fundraiser. It is being held outside Winnies (Winthorpe Community Partnership) at Winthorpe on Saturday, April 16, from 11am to 3pm.
The family fun day is being organised by Dottie's aunty, Jen Emerson
Organisers are looking for donations and volunteers to help on the day so they can raise as much as possible to help. So far there will be a Bouncy castle, face painting, cake stall, tombola, raffle, games, stocks, food and drink, a BBQ.
Anyone who can help is asked to contact the Winthorpe Community Partnership on Facebook.