Historic carriage near coast wins top award at Railway Oscars
A historic carriage that was restored by volunteers near the Skegness coast, has won a top award at the Railway Oscars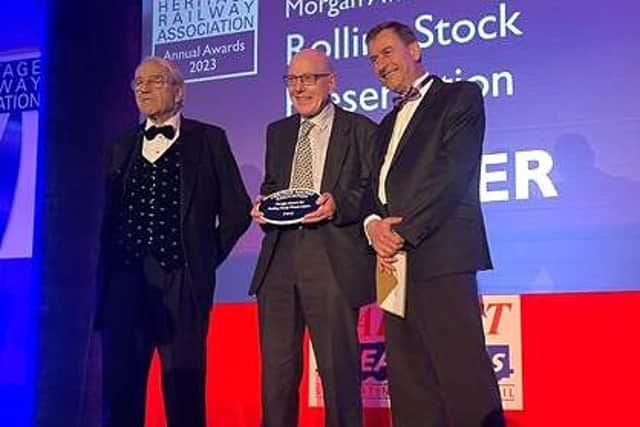 Lincolnshire Coast Light Railway's unique 'Queen Mary' carriage had been short-listed for the Heritage Railway Association. (HRA) annual awards. The win was announced at the HRA's dinner and awards ceremony in Birmingham last week.
It had been short-listed alongside entries from the doyen of heritage lines, the Bluebell Railway and the Chasewater Railway, for the Morgan Award for
Rolling Stock Preservation.
Geoff Hankin, an LCLR volunteer and a trustee of the line's Historic Vehicles Trust based at Skegness Water Leisure Park, who accepted the Award said: "This is a great honour for everyone who worked on the restoration of the 'Queen Mary' and who give so much of their time and skills to conserving this unique part of Britain's railway heritage in Lincolnshire.
"We have always admired the achievements of the Bluebell Railway and the Chasewater Railway which began their operations around the time the LCLR was built in 1960, so to win the category in which they were shortlisted highlights the achievements of our small group of volunteers, working with minimal resources."
"Heritage Railway Association Chief Executive, Steve Oates, said: "Despite all of the challenges thrown at the sector, some of the work demonstrated by entrants to the awards this year is literally staggering.
"The amount of effort put in by staff and volunteers at railways and tramways up and down the country over the past 12 months never ceases to
impress – and these awards are all about celebrating their success".
The 'Queen Mary' was built and operated nearly a century ago by the Nocton Estates Railway – the largest of Lincolnshire's famed 'Potato Railways operating in the in the Bardney – Sleaford areas.
The owners of the 23-mile narrow gauge system used it to transport shooting party guests around the estate. The somewhat haughty manner of those guests prompted the estate workers to call the carriage the 'Queen Mary'. The system mostly closed towards the end of the 1950s and the old carriage was stripped of its wheels and bogies and became a taxi company's waiting room and later the office of a scrap dealer.
The carriage was rescued by the LCLR more than 40 years ago – but initially, never restored.
It had never carried a fare paying passenger in nearly a century's existence until it began to do that to help owners, the Lincolnshire Coast Light Railway, transport crowds celebrating HM Queen Elizabeth II's Platinum Jubilee in 2022.
Chairman of the LCLR's charitable trust, Richard Shepherd said: "This is a truly extraordinary accolade for our volunteers' work to be honoured alongside that from such notable railways as the Bluebell and the Chasewater.
"This award demonstrates the significance of our unique collection of locomotives, carriages and wagons from Lincolnshire's narrow gauge railways – priceless relics which transformed Lincolnshire's ability to feed the British Isles and which would have been lost, were it not for the foresight of the pioneers who built the LCLR in 1960 and collected so many items before they could be destroyed."