Holdingham Helpers hits 100 shopping trips for residents
The Holdingham Helpers coronavirus volunteers group helped their 100th client in Sleaford on Thursday (June 25) when shopping was collected for John and Brunhilde Brock of London Road.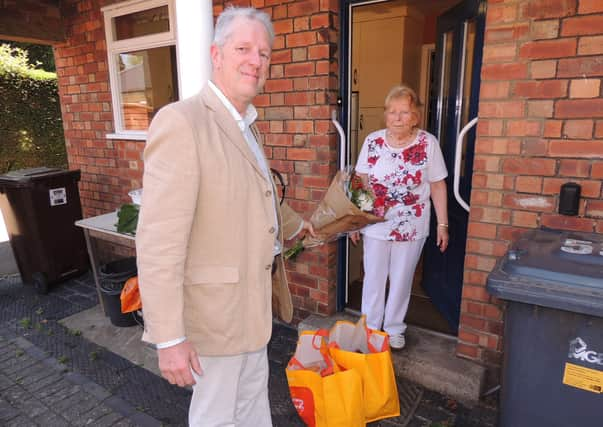 The occasion was marked by a surprise bunch of flowers for Mrs Brock along with her shopping, presented by co-ordinator, town and district councillor Robert Oates.
Mrs Brock, who has been among those shielding due to underlying health conditions, said: "I have been using the service whenever my daughter cannot help me get a delivery slot with Sainsbury's because my eyesight is bad.
"I can always rely on this wonderful man and his helpers."
Coun Oates said: "When I realised that Mrs Brock would be our 100th client, I decided to brighten her day with a surprise. The Brocks have been receiving government food parcels but not needed all of the contents. So, we have taken them to the Community Larder at the New Life Church. In that way nothing is wasted, and everyone is helping someone else."
The Holdingham Helpers have 42 volunteers across Sleaford helping elderly, unwell or less-able people who are sheltering from coronavirus. They help with collecting shopping and prescriptions, making friendly phone calls, and giving advice to people who cannot access internet services.
Coun Oates added: "Some very vulnerable people who are shielding are worried that when the government support scheme is paused on August 1 they will have to fend for themselves, even if they are still not confident about going outside. I would like to reassure those people that we will be here for as long as they need us.
"Fortunately, Sleaford has escaped relatively lightly compared to other parts of the country. So far as I know six people from the town have died of coronavirus. Each one is a tragedy and our sympathies go to their families and to everyone who has suffered in this epidemic. But with the lifting of the lockdown there comes the risk of a second wave of the virus."
Contact [email protected] or call Holdingham Helpers on 07523 327697, Monday to Friday 10am to 6pm.