Homes builder cements support for hospice staff
Staff at St Barnabas Hospice received gift bags full of Christmas treats from Lincolnshire housebuilder Chestnut Homes in recognition of their hard work over the past year.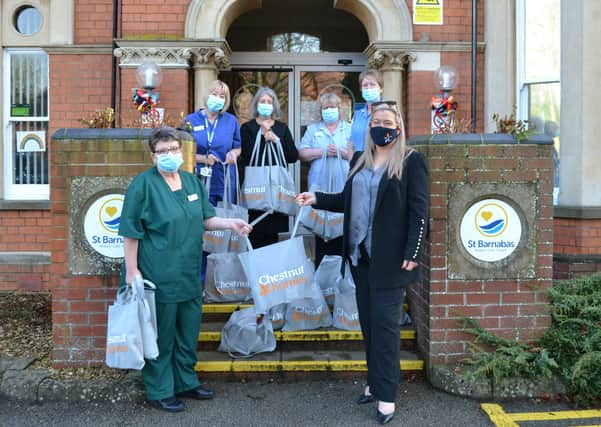 The developer donated 20 gift bags full of alcohol-free fizz, chocolates, sweets and mince pies to thank the nurses and staff at the hospice who worked in the Inpatient Unit over the festive period.
Last year, Chestnut Homes also provided staff at the hospice with vital PPE to ensure they could continue to care for patients safely during the pandemic.
Helene Key, sales manager at Chestnut Homes, said: "After what has been an extremely difficult year, we were keen to show the staff at St Barnabas Hospice that we are all so grateful for their hard work, especially in these unprecedented times.
"While many of us were relaxing over the Christmas period, staff at the hospice worked throughout the festive season to ensure their patients received the very best care possible.
"We want them to know their hard work and dedication has not gone unnoticed, so this was our little way of saying thank you for everything they've done in this most challenging of years."
St Barnabas Hospice supports more than 10,500 people every year from across the county who are living with a terminal or life-limiting illness.
Caroline Swindin, fundraising development manager at St Barnabas Hospice, said: "Our Clinical teams have gone above and beyond this year as they have adapted to the changing guidance surrounding the coronavirus.
"I know they will be so appreciative of this kind gesture and they really do deserve it.
"Chestnut Homes have been fantastic supporters of the hospice for some time now and I would like to say thank you on behalf of everyone at St Barnabas for everything they do.
"It is a pleasure to work with them and I look forward to this partnership continuing."