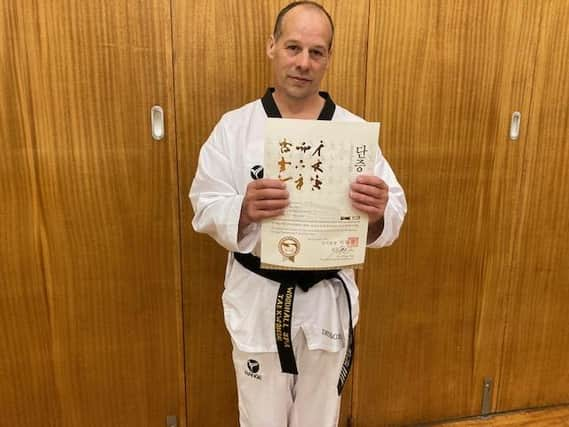 ​Andy Jackson, 47, has been living with the condition since he was three years old, and as today (Sunday March 26) is Purple Day, national charity Epilepsy Action is urging people with epilepsy to share their experiences about living with the condition.
Andy doesn't remember much about the time he was diagnosed, but he does recall his teachers not knowing what to do when he had a seizure at school growing up, and his parents not having much information about epilepsy as a condition.
"I had very little knowledge of what was happening to me in my early years, and I remember thinking: 'why does it have to be me?'" he said.
Andy also recalls being physically and verbally bullied at school due to his condition.
After leaving school, however, he discovered martial arts, which helped him find a confidence he didn't know he had then.
"When I first started, my mother wasn't convinced I should have been doing it because of my epilepsy diagnosis," Andy said, "But the more I trained, the more my confidence and physical coordination improved.
"Of course, you should always be careful, but there are so many positive aspects to taking up a sport despite having epilepsy that should be talked about more."
Andy has been practicing for more than 20 years, and has achieved a Taekwondo black belt and has now passed his 4th dan grading.
Aside from sharing his own experience, Andy is really passionate about raising awareness of the challenges of parents who have a child with epilepsy, as his daughter, Milla, was also diagnosed with the condition when she was ten.
"It was devastating when Milla got diagnosed, as I knew what my parents and my wife had been through due to my condition and seeing me having severe seizures," Andy said.
"It's especially hard as Milla's seizures aren't fully controlled. We have tried different kinds of medication, but it's difficult to find the right balance in teenagers, while they're still growing," he said.
"It's far worse watching my daughter having seizures and knowing what they feel like, as I was conscious with most of mine. Worrying about your child and how they will cope takes a huge mental toll."
There are currently 630,000 people with epilepsy in the UK, and for Purple Day 2023, Epilepsy Action is encouraging supporters to get involved in virtual fundraisers and on social media with the #purpleday, to help spread awareness of epilepsy and how it affects people.