Horncastle author's new book 'Suggestion of Space set for launch in October
​After 14 years in the making, a Horncastle author is now preparing for the launch of his new sci-fi novel.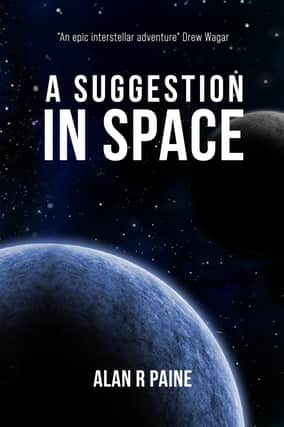 Alan Paine, going under the pen name of Alan R Paine, has had five short stories published with Fantastic Books Publishing, and he has now had his first novel, 'A Suggestion in Space,' published.
This fast-paced science-fiction tale sees the crew of the Kalevala left stranded on an alien planet after a mistake, and they are forced to adapt and survive in a new environment.
But as they build a community, dark secrets begin to surface, and they must confront the question of whether they are the first to settle on this planet, and this coming of age story promises to keep readers on the edge of their seats.
Alan, a chemical engineer in the edible oil processing industry, has drawn on his scientific expertise to create the science-fiction narrative, and the end result has already been described as an "epic interstellar adventure" by best-selling science-fiction novelist, Drew Wagar.
"It has taken 14 years from the day I started writing this book in 2009 to its official launch in 2023," Alan said, "It's a long journey and a long time, but nowhere near as long as the journey my characters have to make.
"It's exciting to be the author of a professionally published novel. It's something I never really thought would happen."
A Suggestion in Space will be launched on October 21, and is available at https://mybook.to/SuggestionInSpace