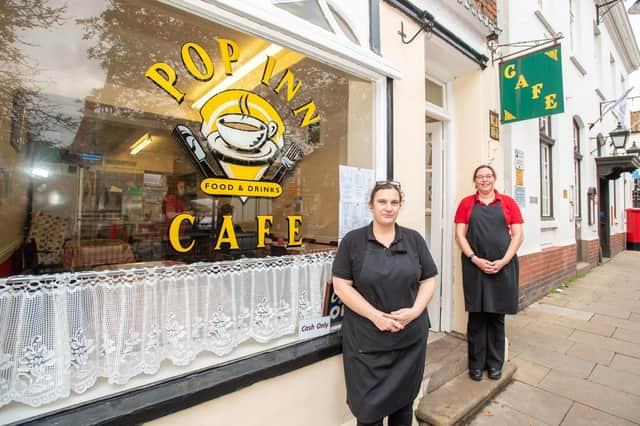 Sam Scarbro is currently running the only business (Pop Inn Cafe) able to benefit from the closure of a cobbled section of road in the Market Place.
She's serving customers 'al fresco style' and says it has made a big difference to her takings.
However, fellow hospitality businesses are not as fortunate because the pedestrianised scheme does not include St Lawrence Street – despite the efforts of the town council.
As a result, the likes of Tanya's, Costa Coffee, a kebab house and a fish and chip shop are potentially missing out.
Mrs Scarbro explained: "I originally applied for the outdoor pavement licence.
"We are actually serving people at outside tables but only on a Thursday (market day).
"Since Covid-19 started, we've had tables outside every day and it's proved to be very popular.
"People really like the idea and it has made a big difference to us."
Mrs Scarbro says she initially considered applying for the entire Market Place to be included (including St Lawrence Street) but decided against it because it would have meant the loss of a busy car park.
She added: "In the end, I went for the road outside Pop Inn Cafe and St Lawrence Street.
"I was surprised when they (Lincolnshire County Council) didn't include St Lawrence Street.
"Some people might think I'd be happy that other businesses can't have outdoor tables but I don't see it like that. We are in this together.
"We want to be party of a community and if more businesses could benefit from outdoor seating area it's got to be good for town.
"Horncastle has some great independent shops but it's tough for everyone at the moment and the restrictions might get worse.
"We've got to do something."
In theory, neighbouring businesses could apply to use the section of road now closed to traffic.
However, that would mean staff having to carry food and drinks across St Lawrence Street.
Mrs Scarbro also believes the pedestrianised scheme should have been brought in much earlier, so traders could have taken advantage of the better weather.
Meanwhile, town councillors were due to discuss the issue at their monthly meeting last night (Tuesday).
Not everyone is in favour of closing St Lawrence Street, with some residents claiming it would add to traffic issues.