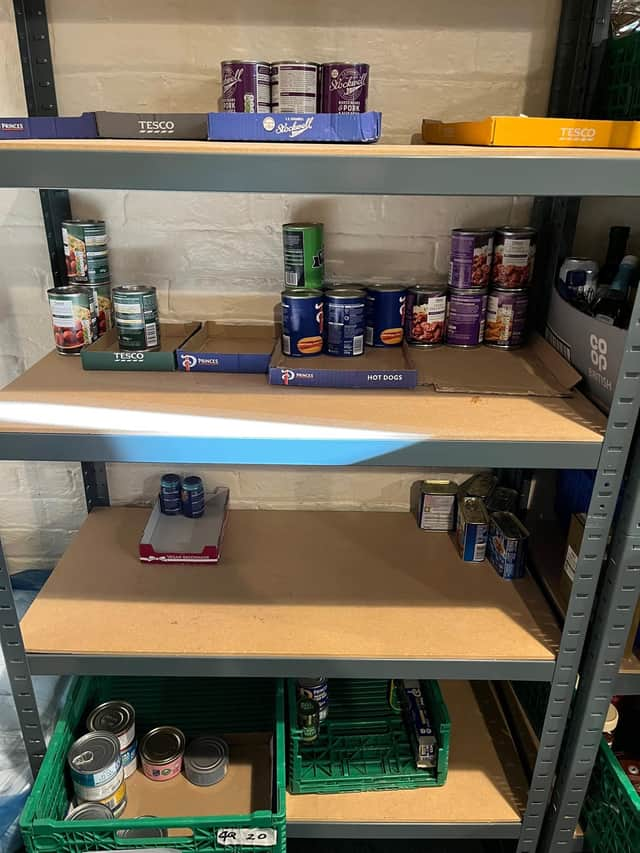 Spokesman Isabel Forrester said that at the end of last week, the food bank has seen the volunteers hit crisis point as so many of the shelves they are usually well-stocked with, including staples such as tins of soup and baked beans, are completely bare.
"This time last year [January 23] we had handed out 19 food parcels, but on Friday we had given our our 36th," Isabel said, "I know in comparison to some of the big cities this isn't very much, but we're not in a big city, we're a small town food bank."
Usually many of their suppliers would provide the food bank with many staples such as tinned meat, tinned vegetables, tins of soup and other filling, warming items, but as the demand has increased on suppliers across the country, Horncastle's food bank has been receiving less and less of these items.
"Even things like tinned fruit, tins of soup and cereals we normally never run out of, but we're going to be needing more of those soon as well," Isabel said.
"It's a reflection of the times, we're getting more people who have never used a food bank before, ordinary people, who are having to see if they need to come and receive our food from our pantry instead of buying food to give to us."
This is a level of struggle with their empty shelves that the food bank has not seen since the first Covid-19 lockdown, when the increased need for a food parcel saw the volunteers providing a food parcel for many elderly people who were sheltering.
This week, MP for Ashfield, Lee Anderson, has come under fire for making more controversial comments about food banks, after previously implying people earning more than £30,000 and needing to use food banks have a "budgeting problem".
On Friday, he Tweeted a photo of a woman who he said works for him, with the caption: "Katy works for me. She is single and earns less than 30k, rents a room for £775pcm in Central London, has student debt, £120 a month on travelling to work saves money every month, goes on foreign holidays and does not need to use a food bank. Katy makes my point really well."
Isabel described his comments as "abhorrent" and that to imply that people need to use food banks because they can't budget is "hurtful and damaging":
"MPs who are sitting there on their £100,000 salary claiming that people who struggle and need food banks can't budget is an insult, and will be damaging to people's mental health as it implies they are failing, it's disgusting," she said, "It shows a total lack of empathy."
Mr Anderson MP has been approached for comment.
Items the food bank is in urgent need of includes tinned meats such as ham, sausages and hotdogs, Fry Bentos pies, pulses, tinned tuna, tinned vegetables, soups, and washing detergents in liquid form.
These can be dropped off at the food bank's drop-off points at St Mary's Church, St Margaret's Thimbleby, Horncastle Methodist Church, St Lawrence School and Horncastle Primary School.