Horncastle Running Group feel the heat in Great North Run
​As temperatures soared, hardy runners from Horncastle were taking on one of the country's biggest half marathons.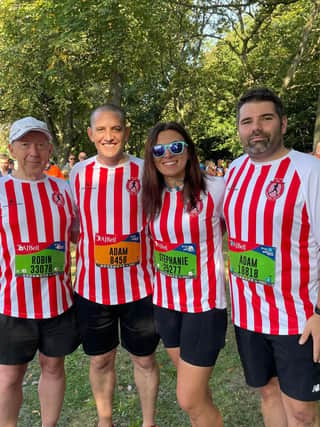 The hardy foursome tackled not only the hot temperatures, but also deluges of rain towards the end of the day, which causes widespread flooding and travel chaos for runners returning from the race.
Adam Sausby-Gallimore was the first home from the group, in 01:57:28, while Steph Scott came next in 02:03:22.
Adam Patrick was third home in 02:28:41, and Robin Harrison closely behind in 02:30:38, a time he said he was happy with as he makes his way back to fitness from injury:
"I was 35 minutes slower than before as I'm coming back from injury, and an email from the organisers said to put Personal Bests out of our minds as it was going to be so hot and make sure we were prepared and to have plenty of drinks."
The team from Horncastle also sensibly walked up hills on the route instead of running up them.
Horncastle Running Group has recently changed their running days to Thursday nights and drop Wednesday nights, so during the winter months the group will train on Mondays and Thursdays starting at 6.30pm from the Bull Hotel Carpark. Find out more at Horncastle Running Group's Facebook page at www.facebook.com/groups/735465990986684