Horncastle Town FC's U15s girls win Lioness Award for inclusivity
After inspiring many young female players with their inclusivity, Horncastle's young footballers have been recognised at a national level for their efforts.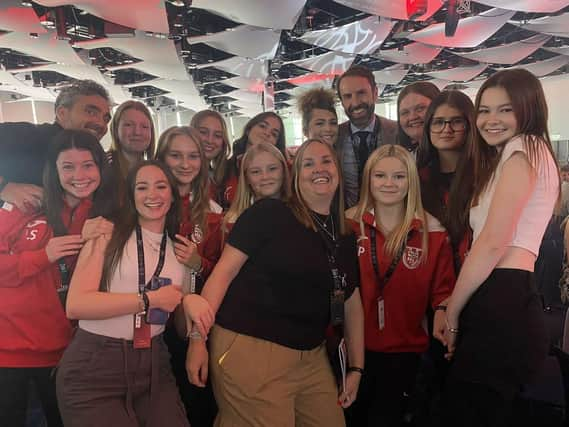 Horncastle Town FC's U15s girls have been trailblazing through their league since last year, when the team announced in December that they would be playing in new, inclusive black shorts to eradicate period anxiety – breaking with 150 years of wearing their traditional red shorts – following in the footsteps of EFL Championship football team West Bromwich Albion FC.
Their decision drew attention from the media across the county and beyond, and in February this year, received a congratulatory message from Lionesses legend Jill Scott.
Now, the team, coach Lorna Holgate, and manager Jamie Town have won the first ever Lioness Award in the Grassroots Football Awards after they were nominated by the Lincolnshire FA.
The team were presented with their award at a VIP award ceremony at Wembley during the Community Shield match between Arsenal and Manchester City on Sunday (August 6), attended by England legends John Barnes, Rachel Yankey, Sue Smith, Martin Keown, Sir Geoff Hurst, and England Men's team manager Gareth Southgate.
The U15 girls were described as "putting the all-round development of female players at the heart of everything it does is more than words for Horncastle Town FC, the club backs its approach with positive actions.
Praised for the opportunities for the girls in the league by offering the players refereeing courses, joining player forums and taking the Lincolnshire FA's in-house female leadership course, the citation for the girls stated that "perhaps the biggest impact HTFC has had is changing the colour of their all its girls team shorts to black as a result of their menstrual cycles.
"This has been a real milestone as it has inspired other girls and women's teams to take a similar step.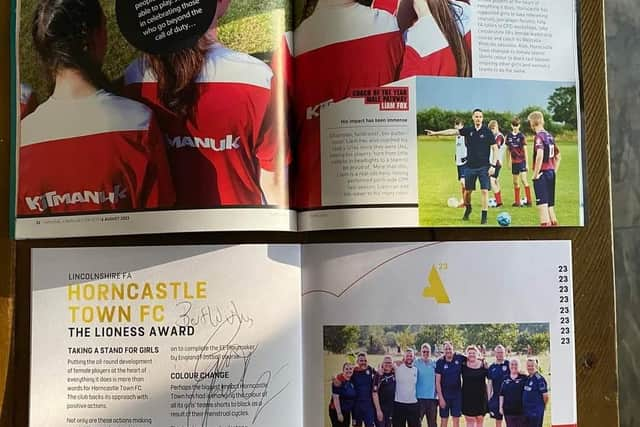 "Recognising that football is as much about the development of young women's vital life skills as it is about playing, Horncastle Town's vision is second to none."
Jamie said that the team was informed that they had won in June and were offered four tickets to the event – which he refused unless they could all go:
"I told them this was a journey of inclusivity, and I'd only come if we all came – they got it, so 19 of us went!"
The girls attended the event in their red tracksuit tops funded by Horncastle Town Council.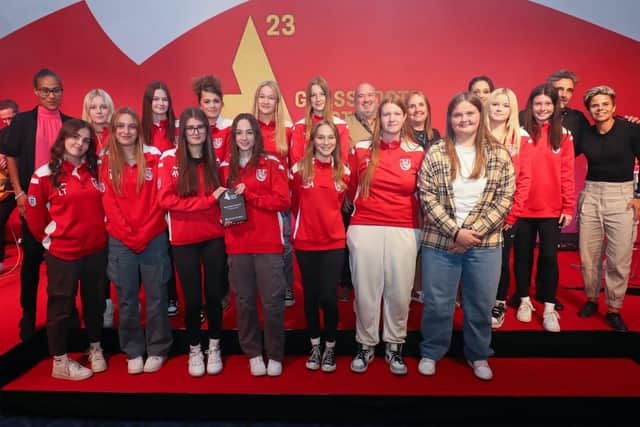 With thousands of nominees for the 12 awards, Jamie said it was "such a humbling event with some truly inspirational winners".
"The girls were amazing, engaging, and had no fear of approaching the England manager for a photo, as well as John Barnes, Martin Keown, Sue Smith, Rachel Yankey, and Sir Geoff Hurst!
"If Gareth Southgate didn't know who Horncastle Town were before, he does now!"
Jamie added that the girls also took the after party by storm, with the girls dancing on stage and joining in a rendition of Sweet Caroline with Sir Geoff Hurst!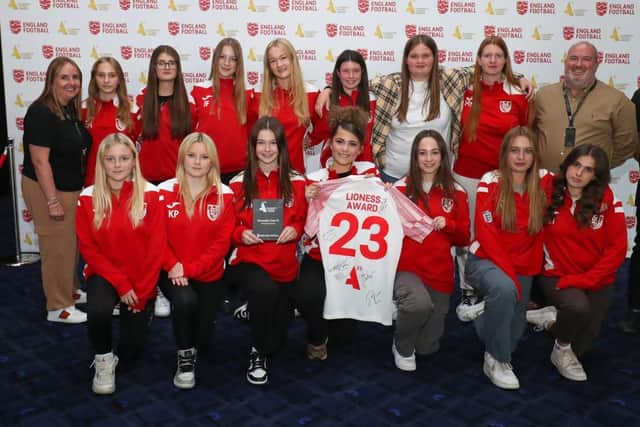 "It was an absolutely surreal day, I'm super proud," he added, "It was one of the best days of my life and I'm sure they will look back and be so proud of what they've done.
"We're really humbled by the support we've had from everyone."
You can watch the U15 Girls' citation video on the Grassroots Football Awards Youtube channel here.