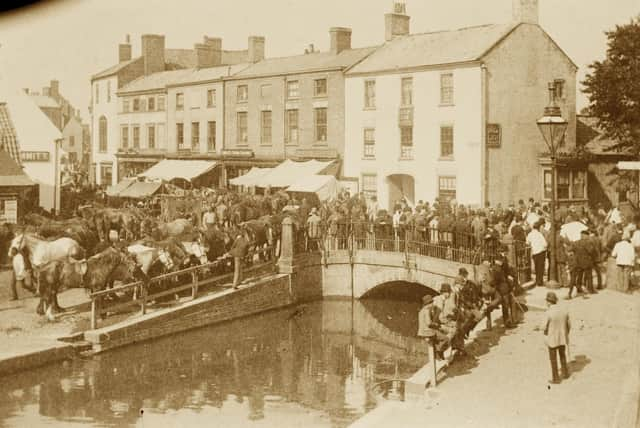 Horncastle's Horse Fair, which took place traditionally on the feast of St Lawrence annually on or around August 10, had been taking place since at least the 1200s before the fair gradually declined over the years due to technology meaning horses were needed less – with the last event taking place in 1948.
But now there are plans by Horncastle History & Heritage Society (HHHS) with organisations in town to hold a special commemorative event on Saturday August 12 to pay tribute to a special piece of Horncastle's history.
Horncastle's Horse Fair was once the largest on earth and almost every farmer bred horses to sell at the Fair, with the Grand National winner of 1839, Lottery, famously bought at Horncastle Fair.
Research by the HHHS shows that Lincolnshire was the leading horse breeding district in the country as early as 1306, and by the 17th century, the Lincolnshire Black [progenitor of the shire horse] was being bred in the Fens, generally for cart horses.
Buyers travelled from all over the world to purchase the best bred horses, including France, Germany, Prussia, Spain, Italy, and even America and were prepared to pay between £150 and £600 even in the 18th and 19th Century for the best brood mares.
The Fair was at its peak in the mid-1800s and ran for about two weeks. Inns with adequate stabling were required and at the time, there were 35 inns throughout the town suitable for this, including the Black Horse, Reindeer, and the Red Lion. By the end of the 19th century, 1,000 horses could be stabled at the various inns.
Sunday was Show Day, when large numbers of the public toured the inn yards, and on Sunday evening, the Wesleyan Methodists organised an open air service in the Bull Ring with speakers, soloists, and a harmonium on a horse dray.
But the invention of railways and then motor cars saw it decline over the years as the need for horses decreased, and the last fair was held in 1948.
And now 2023 will see the fair set to make a comeback to mark the 75th anniversary of the last horse fair.
There are plans in place for the Saturday August 12 to see an extended market take place to mark the occasion, with games, street theatre, a commemorative film projected onto the side of a prominent building in the town centre, and an evening procession.
These plans will be discussed at a meeting at the Stanhope Hall on Thursday April 6, and anyone interested in getting involved in Horncastle's Horse Fair anniversary celebrations are welcome to attend.
The HHHS will be organising a Horse Trail in shop windows around town during August, working with Horncastle-based artist Joanna Pass to make 25 wooden horse silhouettes that local groups and schools will be invited to decorate.
Any schools or community groups who would like to decorate one of these horses, and shops or businesses who would like to host one in their window, can get in touch by emailing [email protected]