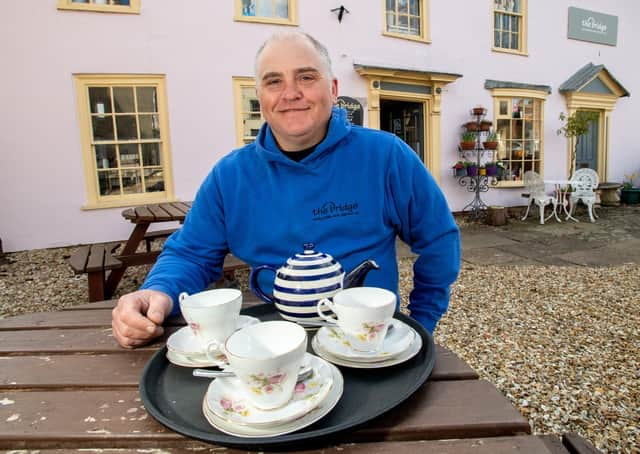 The Bridge Tea Room owner Barrie Jenkinson is ready to welcome customers back
Both are vastly experienced – Barrie has run the Bridge Tea Room in Horncastle for several years, while Phil has owned several businesses, the latest being Scrummies .
However, neither could have planned for events of the last 12 months.
Barrie shut his tea room for the majority of lockdown while Phil, who launched Scrummies during the pandemic, has had to be content with a takeaway trade.
Scrummies owner Phil Cantwell with staff members Mel and Naema Rodrigues at the new outdoor seating area
However, from April 12, that will change.
Hospitality businesses can start to serve customers, but only outside.
Barrie already had a number of tables in front of his premises and plans to reopen on the 12th.
Phil has installed seating for 10 customers outside and they will be available from the 15th.
While delighted (and relieved) to see an easing of restrictions, both men are cautious.
Barrie explained: "What we need is good weather, otherwise there will be no point opening.
"At the start of the first lockdown, I had to throw away almost £1,000-worth of food.
"I can't afford to do that again.
"We can't afford another lockdown either.
"This has got to work but there are a lot of unknowns.
"In some ways, I'd rather we all had to wait another month before we had a bit more certainty."
Barrie has received government grants and his staff - who have been furloughed - have remained loyal.
But those unknowns include the fact the tea room also operate as a gift shop , selling antiques and collectables.
That means customers can enter the shop for that side of the business – but tea room customers will have to remain outside.
Barrie explained: "Our toilets are inside. The shop customers will be able to use them – but the people outside won't.
"The last time we opened (in the pandemic), we had problems with people who wouldn't social distance or wear face masks.
"For the first time ever, I had to ask some people to leave. I don't want all that hassle again."
Scrummies has already 'tasted' success as a takeaway and while Phil is looking forward to serving customers outdoors, he knows there are no guarantees.
He said: "How do we think it will go? To be honest, it's difficult to answer, because we haven't been in this position before.
"With more businesses open in town, hopefully there will be more people around but it is a matter of wait and see."
Phil has re-designed a menu that features panninis and toasted sandwiches with fillings like steak and cheese and chicken and avocado.
He'll sell more than 20 different flavoured milk shakes and has also struck a deal with the Bath-based Unique Tea Company to use its brews.
They will supply a host of specialist teas, including flavours like strawberry and Champagne, banana split and tumeric and mandarin.
Phil added: "There's nothing else offering that in Horncastle so we've got big hopes ."
Barrie, on the other hand, will feature a more traditional menu, featuring daily specials.
However, he's already run into some supply problems .
For example, it seems no-one is making catering size blocks of Stilton Cheese.
While they look forward to re-opening, neither business plans to ask customers for proof that they have been vaccinated.
Two hospitality businesses in Horncastle have closed during the lockdown but others have opened – including the Big Chair Company and at a town centre cycle shop.
Barrie adds: "It's sad to see any business close but in general, I think more business have opened in Horncastle in the last 12 months than closed.
"The town has fared pretty well during lockdown and I think we're all now looking to the future."