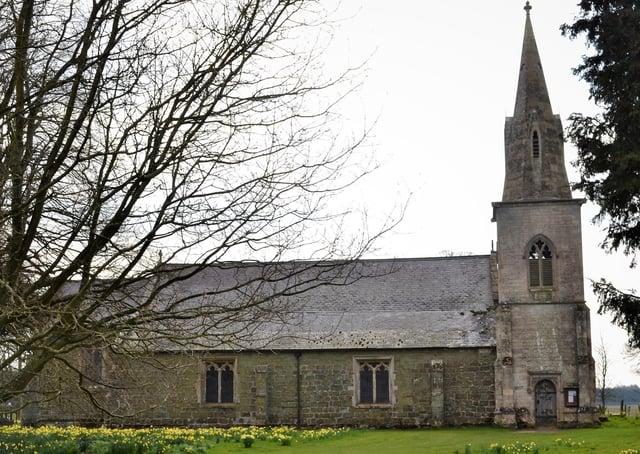 St Benedict's Church at Scrivelsby.
St Benedict's Church at Scrivelsby is on the 'at risk' register of important historic buildings.
The National Lottery Heritage Fund awarded its Parochial Church Council (Scrivelsby and Dalderby) £180,000 to fund a project designed to secure the future of the Grade II* listed building and put it back at the heart of the community.
Additional grants totalling £32,500 were also secured last summer to pay for much needed repairs.
Apart from funding repairs and other improvements, the lottery money will also help develop a number of proposed 'engagement activities' - one of which is hoping to involve local secondary school pupils.
Young people would work with heritage professionals to compare and contrast the history of workers on the Scrivelsby Estate with their modern counterparts and, at the same time, learn about modern rural careers.
The PCC also aims to develop new and existing relationships with local volunteer groups.
Other engagement activities under consideration include:
•Engaging local volunteers to research the history of the church and estate workers memorialised on the wooden panels.
• Creation of a history leaflet, family trail and interpretation banner from this information.
• A talk for National Lottery players once the repairs are complete about the history of the building (to be given by one of the Church Wardens).
• Getting the church open for Heritage Open Days, including providing engagement activities for the public.
• Opening events for invited stakeholders, National Lottery players and the local community.
Many of the activities were suggested before the full impact of Covid-19 and work is on-going to develop digital arrangements.
The PCC - supported by Heritage Lincolnshire - recently advertised for a consultant to work on the project.
The successful applicant will produce a report about all aspects of the programme
The report will form a key part of the on-going project including demonstrating to the National Lottery Heritage Fund what project outcomes have been met and areas of learning for future projects
It will also guide the PCC in how they can continue to engage with wider groups.
Last summer, the church secured a £12,000 National Churches Trust Cornerstone Grant, together with an additional £4,500 grant made by the Trust on behalf of the Wolfson Foundation.
At the time, the Trust said churches were at the heart of communities but repairs were often beyond the means of PCCs and congregations.
Francis Dymoke and Pauline Grundy, churchwardens at St Benedict's, said: "Once the roof is repaired, the church building will be secure for 150 years".
"With the new kitchen and facilities, it will be available for everybody".
"The village has no other centre to use. We are so grateful to the Trust."
•Further help was received from the All Churches Trust, Garfield Weston Trust, Lincolnshire Churches Trust and Kochan Trust.