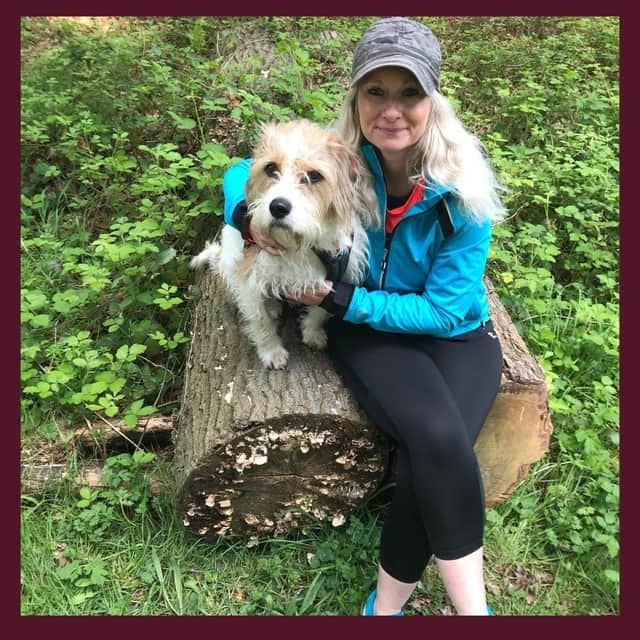 Lucie Mountain and her dog Barney
The Paw Runner is born out of a passion for running, an even bigger love for dogs and a compassion for the wellbeing of dogs and humans alike.
It offers a selection of virtual walking and running challenges  as a fun way to encourage you and your dog to venture out, get fit, healthier, and happier together, while strengthening your bond.
Whether you are a total beginner or a fitness super star, there is a selection of monthly challenges - from three miles to 200 miles - for you and your pooch to choose and conquer in your own time, whenever you like, wherever you like, working your way up from Bronze, Silver and Gold Challenges to reach your ultimate fitness goal.
When you smash your chosen distance in the given time frame, you will receive a unique medal and doggy reward.
What's more, you and your dog can enter a challenge to help raise money for a charity of your choice.
The brains behind this innovative mission is Rasen area self-confessed amateur runner Lucie Mountain.
She said: "With obesity, certain health conditions and mental health issues on the rise in both humans and dogs, the Paw Runner is about  creating  a movement to prevent this from happening and encouraging people to change their lifestyle habits for the better, one paw at a time!"
The Kennel Club  recommends that the average adult dog should have at least 30 minutes of exercise a day to stay fit and healthy.
Lucie said: "Shockingly, research conducted by PDSA shows that this is not the case in the UK as 1.3 million dogs aren't getting walked on a daily basis.
"This has a detrimental effect on the dogs causing depression, anxiety, weight gain and an increase in illness related conditions such as diabetes, cancer, heart disease, high blood pressure, stroke and liver disease, to name a few."
It is well documented that there are strong links between regular physical activity and positive mental health as it keeps you stimulated, alert, reduces stress levels and equips you to positively deal with any demanding situation.
Lucie and Barney running through the woods
Lucie continued: "Increasing your daily and weekly exercise habits, whether it be walking or running, can make a real difference to both you and your dog's life, leading to a healthier, happier, longer and more fulfilled lifestyle."​
As previously reported, to help combat loneliness caused by the pandemic, many people have reached out to get a faithful four-legged friend for companionship.
Data from Propellernet, a digital marketing agency, has reported Google searches for 'buy a puppy' have increased by 120 per cent and there has been an influx in applications at dog rescue centres for people wanting to adopt a dog.
Lucie said: "In the current Covid-19 climate, The Paw Runner is also about creating a community so you don't feel isolated and know you are not in this alone.
"It is about meeting new friends virtually and creating positivity, offering advice and tips and motivating each other to smash your fitness goals.
"It's a safe place where no- one is judged."
The Paw Runner also prides itself on being eco-conscious.
Lucie says not only do they want to help humans and dogs improve their lifestyle, they want to try to help charities, support local businesses and do their bit to help the planet.
She continued: "We have spent a lot of time carefully sourcing the right medals and doggy rewards for a unique and quality offering that is in line with our beliefs.
"We work with an independent family run business, who make our zero waste medals out of FSC certified wood.
"All our dog bandanas are made by hand by a small, local independent business in Lincolnshire, 'Delchris Designs'.
"We are all in this together for the greater good"
The Paw Runner was launched by Lucie Mountain on May 1 2020, which coincided with Covid-19.
Lucie spotted a gap in the virtual running market for challenges and runs aimed specifically at humans and their dogs and ethically sourced medals and rewards.
She says she discovered that when she started running as part of a challenge she set herself to run the Great North Run in 2019, it made her fitter, but also became her 'super power' as it empowered her with a positive and strong mindset to help effectively deal with any difficult life challenges along the way.
Lucie would train in the woods with her two dogs, Barney and Poppy.
Not only was a positive change seen within herself, both physically and mentally, but  also her dogs. 
Their coats shone and  they were happier, fitter and  more stimulated than ever before. 
Lucie is now a qualified Running Leader as part of  English Athletics and wants to make it her mission that humans and dogs are given the best opportunities to lead a happy, fulfilled  and healthier lifestyle,  one paw at a time.
If you want to get involved and take that first step (or paw) to a healthier lifestyle visit www.thepawrunner.com/
january-challenge.