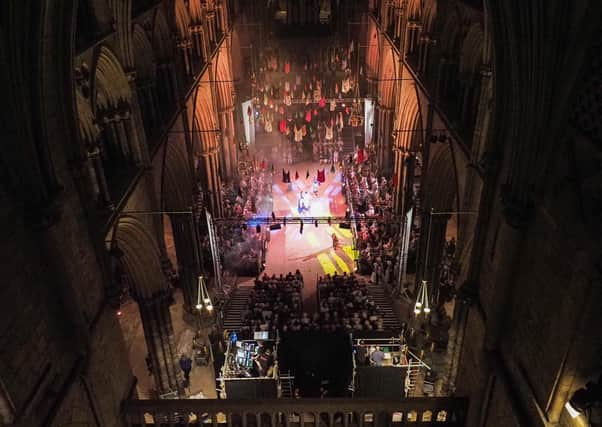 This time they will transport their audience to the Paris of 1482, with the lavish stage musical version of 'The Hunchback of Notre Dame', based on the Victor Hugo novel and songs from the Disney film.
The story begins as the famous bells of Notre Dame sound during the Festival of Fools.
Quasimodo, the lonely but faithful bell-ringer, confined to the cathedral, longs to be part of the outside world.
As the tale unfolds, love, hate, betrayal and benevolence are witnessed as they feature in the lives of the protagonists.
The Very Rev Christine Wilson, dean of Lincoln, said: "In the midst of another lockdown, when the cathedral is necessarily, but heartbreakingly quiet, the thought of seeing the nave once again full 
of people gathered together 
to experience music and drama fills me with optimism, and I hope that this announcement will bring some much needed cheer to people across Lincolnshire and beyond."
The unique setting of Lincoln Cathedral will bring to life one of the main characters of Victor Hugo's original novel – the cathedral building itself.
It is believed this will be the first production of The Hunchback of Notre Dame to be staged in a cathedral, and the setting is particularly poignant in the aftermath of the devastating fire at Notre Dame in April 2019.
As previously, the show will be produced and performed by the people of Lincoln, under the direction of Ben Poole from Starring Lincoln Theatre Company.
Ben said: "Our shows are renowned for bringing hundreds of people together to participate.
"Victor Hugo sums up very well the reason we do it: 'Do you know of anything in the world more rich, more joyous, more golden, more dazzling, than this tumult of bells and chimes - this furnace of music - these thousands of brazen voices, all singing together in flutes of stone 300 feet high, than this city which is but one orchestra - this symphony which roars like a tempest.'
"It will have been nearly three years since we have had the opportunity to do so due to the pandemic.
"I'm sure it will feel like a much needed celebration."
Full details for the show, including dates and ticket prices, will be announced later this year.
Updates will appear on the Lincoln Cathedral website and also on its social media channels.