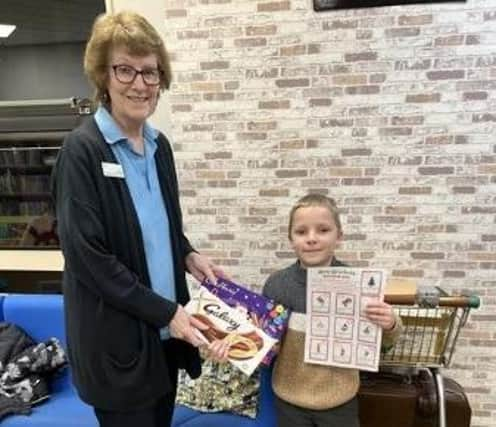 Scores of children took part in the Grinchmas Scavenger Hunt, seeking out the images hidden around the library.
More than 80 entries were put into a draw and Paul Walters was very pleased with himself as he scooped the winning prize.
Staff member Liz Wood presented the prize goodies to Paul.
Karen Waring, for GLL, said: "Our scavenger and treasure hunts are becoming quite legendary at Louth Library.
"It's great to see so many children taking part in our book based activities that help them to recognise well-known literary characters and test their knowledge of books too.
"It also enhances their problem solving skills.
"Watch out in the next half term for another exciting hunt."
As well as the occasional hunts, the library also hosts regular activities for children.
These include Storytime on Mondays and Rhyme Time on Thursday for children from birth to preschool, together with Kids Craft Club on Tuesdays and Lego Club on Saturdays.
For more information about the library, call the Customer Service Centre on 01522 782010, email [email protected] or call in to speak to a member of staff in the library.