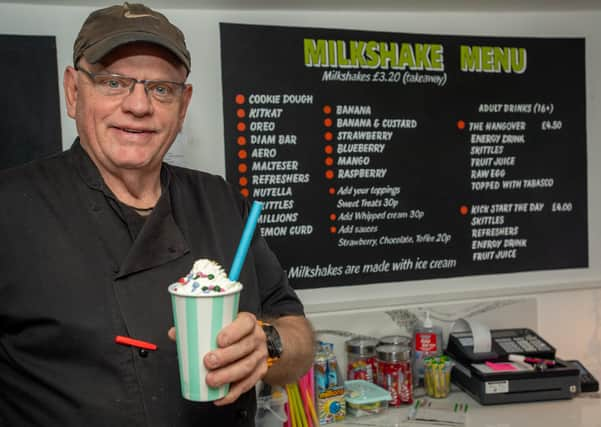 Phil Cantwell, a former town councillor, believes he contracted the illness while working as a volunteer at Boston's Pilgrim Hospital. He spent 'five weeks from hell' fighting the virus before being given the all-clear by doctors.
He says he feels better than ever and has just opened a new business in the town.
While Mr Cantwell admits a decision to ease Covid restrictions would help his and other businesses, he is concerned it could lead to another spike in cases.
He said: "I was one of those people who thought I would never catch Covid.
"I wasn't hospitalised, but it was still dreadful - five weeks from hell. I wouldn't wish it on anyone.
"I'm following all the rules and regulations but with restrictions set to be lifted over Christmas, I hope people are sensible and stick to the rules.
"I can understand why everyone wants to meet up, but please be careful - be sensible.
"Don't do anything that could put you, or others, in danger of catching this terrible disease.
Mr Cantwell previously owned an award winning Thai restaurant in Horncastle, but retired 18 months ago due to health reasons.
However, he decided to volunteer to work in the kitchens at Pilgrim Hospital during the pandemic.
He said: "We were cooking and serving meals to all members of staff - doctors, nurses, surgeons. cleaners...the lot.
"We also took meals up to some of the wards, including the Intensive Care Unit where most of the Covid patients were.
"It was pretty amazing. The NHS staff deserve nothing but praise.
"What they have done - and what they are continuing to do - is fantastic.
"My heart goes out to them."
Mr Cantwell was added to the list of bank staff before Covid cut short his stay.
He had various symptoms including loss of taste and smell and general aches and pains.
He adds: "It was a struggle to do anything.
"If I did, I'd spend the next three hours sleeping. I'm 60, but I just kept fighting.
"I wasn't going to let this thing beat me."
After receiving the all-clear, Mr Cantwell decided to launch his new business - Scrummies - which sells quality smoothies, milkshakes and hot food.
Mr Cantwell admitted: "People keep telling me I am the only person crazy enough to open a business during a pandemic!
"I really missed Horncastle and Horncastle people.
"It's been great since we opened, seeing so many familiar faces.
"This is my fourth different business in Horncastle.
"I'm back - and couldn't be happier!"