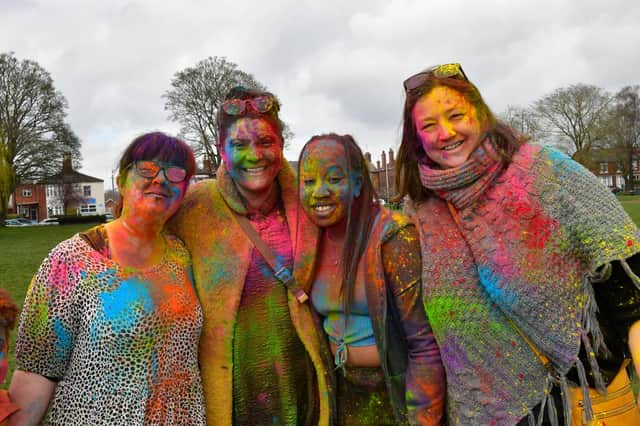 In Pictures: 2,000 enjoy colourful celebrations at the Holi Indian festival in Boston
A vibrant festival, thought to be the biggest of its kind in Lincolnshire, saw around 2,000 people flock to Boston's Central Park on Saturday.
Published 20th Mar 2023, 14:40 GMT
Updated 22nd Mar 2023, 10:11 GMT
The Holi colours festival attracted visitors from across Lincolnshire to join in the celebrations of Indian culture and the onset of springtime
Organised by the Indian Cultural Organisation of Lincolnshire (ICOL) the inclusive event featured stalls of authentic Indian food, jewellery and more.
Much to the delight of children, a part of the festival involved the celebratory throwing of coloured powders into the air.
Holi is a festival of colours, a celebration of spring, love, and the victory of 'good over evil'. People celebrate by throwing colored powder and water at each other, dancing, and singing.
The ICOL says it is "a time of joy and celebration, and it is an opportunity for people to come together and have fun".
Organiser Dr Deepa Agarwal, president of ICOL, said: "It was great, we had around 2,000 people there on the day. The whole idea of the festival is to have positivity in the community and to spread some joy, and I think we did that.
"So many people had smiles on their faces and we had a lot of people say they would like us to bring the festival back next year."
Those in attendance included the Vice Consulate General of India, Mayor of Boston, Coun Anne Dorrian, the High Sheriff of Lincolnshire and representatives from Lincolnshire Police and the local NHS.
The event helped to raise money for charities including Citizens Advice, ULHT, HEAL charity UK, which helps disadvantaged Indian families 'to escape the poverty trap', and Ananya Prasad – who is aiming to be the first Indian woman to sail solo across the Atlantic Ocean.
Dr Agarwal offered thanks to all those who sponsored the festival, including the National Lottery Community Fund, Boston Big Local, ULHT charity, Lincolnshire Partnership NHS Foundation Trust (LPFT) and the Ukrainian Refugees Fund.