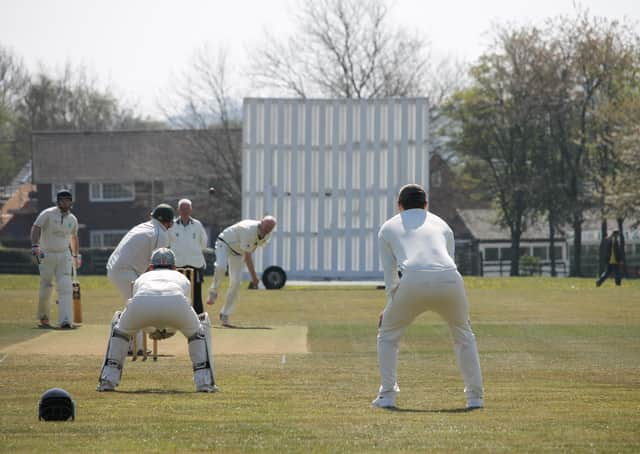 Cricket is but a game, but in this summer of 2020, a game that is haunted by an apocalyptic fear that it is meekly slipping away from the national scene.
So wrote the esteemed cricket writer and commentator Mike Atherton when reviewing the book 'One Long and Beautiful Summer' by the award-winning sports writer Duncan Hamilton.
I have read both of Hamilton's previous books, one incredibly funny featuring the life and times of Brian Clough and the other about county cricket's old grounds.
The real concern of lovers of the game in this country is at the local level.
I share Hamilton's feeling that the traditional form of the game is struggling – by traditional I mean red ball cricket played on the village green or in the shadow of Worcester Cathedral.
The spirit is willing, but the soul of the game is being tested.
For some years now, cricket in state secondary schools has been on the decline – few play any meaningful cricket.
I recall a day 20 years ago umpiring a school match at De Aston when a 14-year-old Matt Rutherford, more recently several times captain of Market Rasen CC, bowled his left armspinners in a school match.
I remember, from my teaching days in Brigg, a young Wayne Noon playing for Caistor Grammar against the Vale of Ancholme. He was to go on to a distinguished first class career.
Those school matches simply don't take place now in state schools.
The July edition of the Cricketer Magazine featured a beautifully written three-page article by Noon of county cricket in the 1990s.
There was also a report on one successful state school where cricket thrived.
It was at Watford Grammar School and it said the teaching staff willingly gave of their time after school or on Saturday mornings.
They don't seem to round here these days, or, to be fair, in many shires.
Trendy thinking about sports ambassadors and noncompetitive sport kicked in long ago, after all a race where there are losers is damaging, it was claimed, to the mental health of children.
Thankfully, public schools play cricket properly, or did until this summer, and it is a fact that in recent years more and more of the England team have been privately educated.
The clubs have thankfully been more blessed with committed volunteers in recent years; men like Wes Allison.
Wes died last month and a service to say thank you for all he had done for the local game was held open air at Caistor Cricket Club.
Tributes have been fulsome on social media and fully deserved.
Wes was a salt of the earth character who knew his cricket.
It is due to Wes that the youth section of the club thrived for so long. Youngsters were taught to play properly in the true spirit of the game, the result being several generations of talented players that has kept Caistor thriving.
My last meeting with Wes was at Market Rasen races. He loved his racing and he would wander over when he saw me and ask me if I had any tips.
Well the odd word did get round in the press room coming from those more knowledgeable than me.
If I found Wes, he was often in the company of his friend Newstead trainer Nick Kent.
In his later years, as his health sadly declined, his love of racing, just as his love of cricket, served him well.
Wes was very handy with a camera too, submitting photos to the Market Rasen Mail, often of local scenes and churches. He also had the pleasure of seeing his pictures featured on Look North TV.
Wes will be greatly missed around the town. Thank you Wes, for all you did for local cricket – may you rest in peace and may you take just as many wickets upstairs as you did in your playing career down here.
Frustration has been the name of the game for players and spectators of cricket in this country this summer as lockdown took hold.
I am afraid it will only add to the decline in the numbers of players in local clubs and more will undoubtably fold, as my old club Brocklesby did last year.
South Kelsey, once a local hot spot, has also gone, while Keelby has declined from three teams to one.
In the wider world, cricket is having mixed success.
The Indians love their IPL, while cricket has reportedly thrived in Afghanistan since the fall of the Taliban.
Test cricket struggles for crowds in the West Indies but there is nothing better than an Ashes battle, either in Adelaide or Manchester.
Duncan Hamilton's latest book is entitled 'One Long and Beautiful Summer' and was obviously written before the summer of 2020.
The cricket season of 2020 will be remembered for all the wrong reasons, both locally and nationally.
Hamilton feared for a kind of cricket apocalypse, but could not have imagined in his wildest dreams what would be the cause.
Recreational cricket has just got the green light, a truncated county season without crowds is underway, while the recent Test series where victory came over brave visitors and wonderful sporting friends from the West Indies, who emerged with much credit.
Recently, while in the Surrey Hills, a rural hotbed of village cricket, I drove on a Saturday afternoon past a lovely cricket ground – the sort thelate John Arlott would have waxed lyrical about.
The village church formed the backdrop, but the scorebox was locked, the square was roped off and the only action on the outfield was from a couple of young lovers, one complete with Argos bracelet who had clearly been following Normal People on the box. It was a sad scene for cricket.
Another esteemed cricket writer in Michael Henderson has written a book under the title 'That will be England Gone.'
Sadly if the damage to cricket done indirectly by trendy educationalists and the declining numbers of club volunteers proves fatal, Henderson will be right, for cricket is to an English summer what roast beef is to an English Sunday dinner!
The efforts of men like Wes Allison will never be forgotten, but I fear the game will be by the next generation.