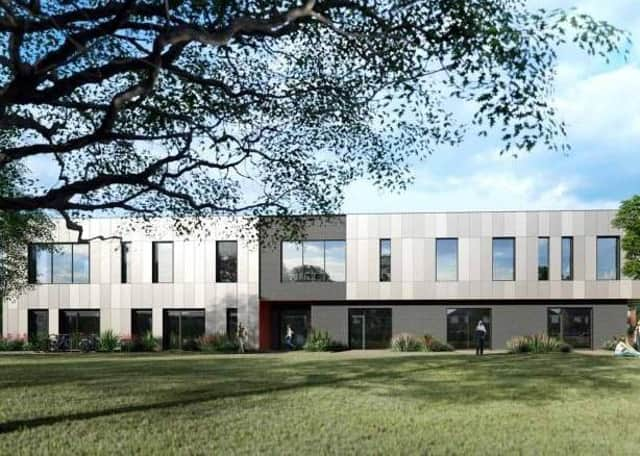 The Mareham Road project – the biggest in Horncastle's history – received the go-ahead from planners last October.
Initial suggestions indicated the building would be completed this summer and it was thought the hold-up had been caused by the covid pandemic and Brexit.
However, it has emerged that delay in securing part of the all-important funding package was responsible.
The new development will feature further education facilities in partnership between ELDC and Boston College.
Neil Cucksey, ELDC's assistant director for economic growth, is leading the project.
He explained that an application to the Great Lincolnshire Enterprise Partnership (GLEP) for £1.6m was submitted last September and a decision was expected within weeks.
However, it was last month (March) before the GLEP announced funding of £1.2m – a shortfall of £400k.
However, the project will still go ahead, although it has led to a re-think on some of the features in the state-of-the-art building.
Mr Cucksey said the delay had been 'frustrating' but were beyond ELDC's control.
He said final discussions were on-going but it was expected to start in May with Wilmott Brown awarded the contract.
Mr Cucksey confirmed it was hoped the building would be finished by the end of next summer (2022).
He also confirmed the initial budget was around £8.4m but that had been reduced to 'just below £8m' because of the funding issue.
He promised the building would still deliver facilities Horncastle – and ELDC – could be proud of.
The structure will feature up to date heating and lighting schemes – and landscaping – more than meeting environmental guidelines.
Funding will also come from the sale of ELDC's current bases at Manby, near Louth, and Skegness Town Hall.
Mr Cucksey explained moves to attract local interest had not succeeded and both properties will now be marketed nationally.
James Gilbert, ELDC's assistant director for organisation and corporate services, said the sales – and savings on maintaining the two properties – meant the Horncastle project would eventually be 'cost neutral.'
Mr Gilbert also emphasised how important the college element is as it will provide qualifications and training for people aged 19 and over – plugging a huge void in the district.
Exactly what courses are provided will follow discussions with local employers.
Talks are also being held with Horncastle businesses – including food retailers – about how they could forge links with the new development.
ELDC staff will transfer from Manby and Skegness although Mr Gilbert stressed there would be opportunities for home-based working, established during the national lockdown.
He said: "We're not expecting 300 staff to be behind their desk every day. We will adopt a flexible approach , in line with modern thinking."
The multi-million project has been broadly welcomed by residents, councillors and businesses in Horncastle.
There was initial scepticism - not least among residents and councillors about the impact on an already busy road network in the area.
Access to the Mareham Road site will come via Boston Road where there are already notorious jams, especially during the summer.
There have also been concerns about traffic exiting Mareham Road on to Boston Road – and whether current 'resident only' restrictions in Prospect Street and Queen Street will remain.
ELDC says it carried out a full traffic survey as part of the statutory planning process and that no significant concerns.