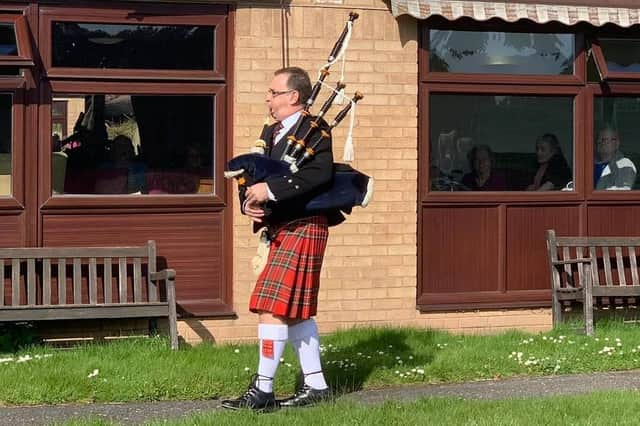 Foxby Court care home, on Middlefield Lane, is taking precautions to protect residents and limiting their contact with outside visitors.
But one doting daughter was worried about her father feeling abandoned, and that led to a rather special day.
NHS worker Joanne Longstaff said: "My dad Ken is 80 years old, wheelchair-bound and doesn't read anymore.
"The highlight of his life is when we visit every week. His mental health slumped terribly when the care home shut down due to norovirus earlier in the year, so this new quarantine having no a time limit on it is worrying."
When Joanne's friend heard about her distressing situation her husband Mark Chesman offered to help in a way only he could.
Mark has been playing bagpipes for 34 years and travelled the world performing, and recording for film and television. He has even played for the Queen.
So the 40-mile round round trip from his home near Scunthorpe was not such a big task, and he even offered to do it for free.
Foxby residents were delighted when he appeared at the window in full Scots regalia and began playing.
Joanne said: "They were smiling, clapping and truly enjoying it. It was an emotional afternoon.
"There is a housing estate next to the home, and everyone there came out and started clapping. It was a truly wonderful act of pure kindness by Mark."
While the care home is keeping up a busy programme of activities for residents, both they and the staff were thrilled by the performance, which they followed with sherries and shandies.
Senior carer Brenda Broadberry said: "It was extremely emotional. I'm so pleased Joanne could do something for her dad and the rest of the residents.
"They really enjoyed it and were extremely grateful. It was just a lovely gesture."
She added: "Our residents are being very understanding at the moment, but with it being Mother's Day that was particularly difficult.
"A big thank you to all our families for being so understanding, and our staff for pulling together."