King meets Lincolnshire's 1953 floods survivors
King Charles met survivors of the 1953 floods as part of his first visit to Lincolnshire as monarch.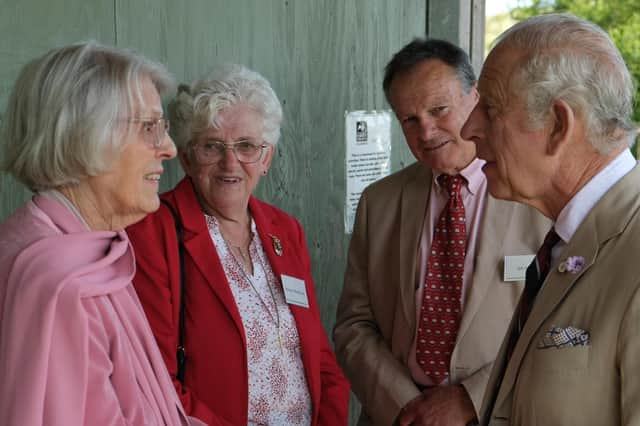 His Majesty toured the county yesterday (Monday) on a day that also marked 50 years since the creation of the Lincolnshire Wolds Area of Outstanding Natural Beauty, 70 years since a major flood devastated communities on the county's east coast, and 75 years since the Lincolnshire Wildlife Trust and Gibraltar Point nature reserve were first established.
As well as survivors of the floods, the King met representatives from Lincolnshire County Council, the Environment Agency, the Lincolnshire Wolds AONB and Lincolnshire Wildlife Trust at the Saltfleetby-Theddlethorpe Dunes National Nature Reserve.
Coun Colin Davie, executive member for environment and economy at Lincolnshire County Council, said: "It has been a pleasure to welcome His Majesty to Lincolnshire today for his first visit to the county as King.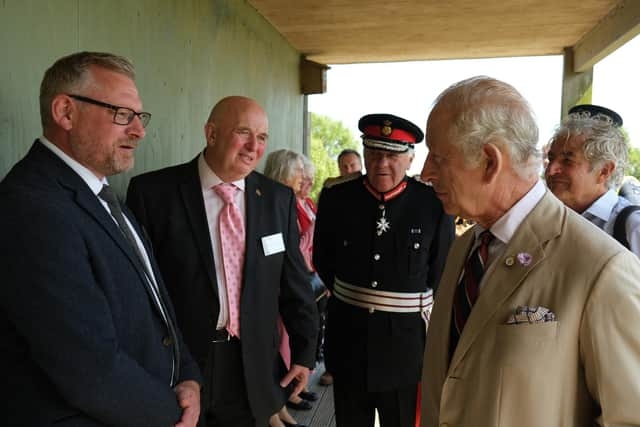 "His visit to our glorious coast – in the very area affected by the flooding of 1953, and a stone's throw from both the Wolds and Gibraltar Point – highlights the many anniversaries we are marking in the county this year. Protecting and enhancing the natural environment has also always been a cause close to His Majesty's heart, and today he has seen first-hand the strong partnerships we have in place to safeguard the future of Lincolnshire's coastal communities and biodiversity."
Deborah Campbell, Flood Risk Manager for Lincolnshire at Environment Agency said: "The communities along the east coast of Lincolnshire live at or below sea level, relying on the sea defences for protection from around half of all high tides each month. The Environment Agency has been nourishing the beaches along the open coast of Lincolnshire since 1994 to reduce the impact of the North Sea on the hard defences and dune systems. In fact, sea levels were a meter higher in the tidal surge of December 2013 compared to those of the devastating flood of 1953, but the effects had minimal impact on the coast."
Paul Learoyd, Chief Executive of Lincolnshire Wildlife Trust, said: "The 1,000 acres of wild Lincolnshire coast at Gibraltar Point was first designated a nature reserve by the county council in 1948 and entrusted to a new voluntary organisation now known as Lincolnshire Wildlife Trust.
"Celebrating the 75th anniversary of the now Gibraltar Point National Nature Reserve and the Lincolnshire Wildlife Trust this year, both the reserve and charity have grown in size and importance as their roles for people and wildlife have been recognised.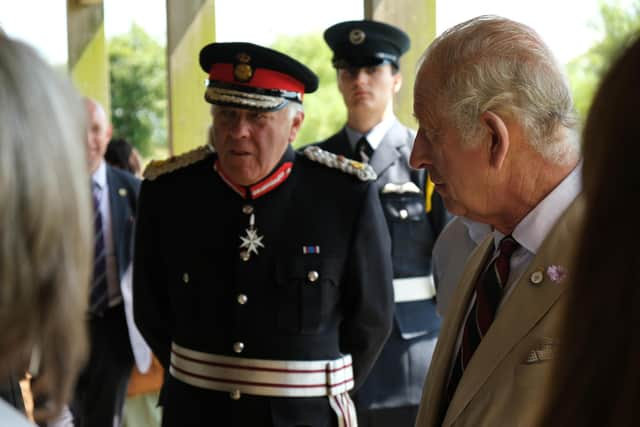 "King Charles first visited Gibraltar Point in 1971 as Prince of Wales and is Patron of the Royal Society of Wildlife Trusts. From this first venture into partnership working 75 years ago, the Lincolnshire Wildlife Trust's work with the county council has grown and developed. We are excited to be working with the county council and other partners to develop our work on the coast in the future."
Lincolnshire Wolds Countryside Service manager, Stephen Jack, said: "His Majesty's visit to the county helps us further recognise this landmark jubilee, for which the Lincolnshire Wolds Countryside Service, the Lincolnshire Chalk Stream Project and the AONB Farming in Protected Landscapes network have worked with partners to coordinate a series of '50 events for 50 years' to showcase, promote and engage with people who live, work and visit the Lincolnshire Wolds."