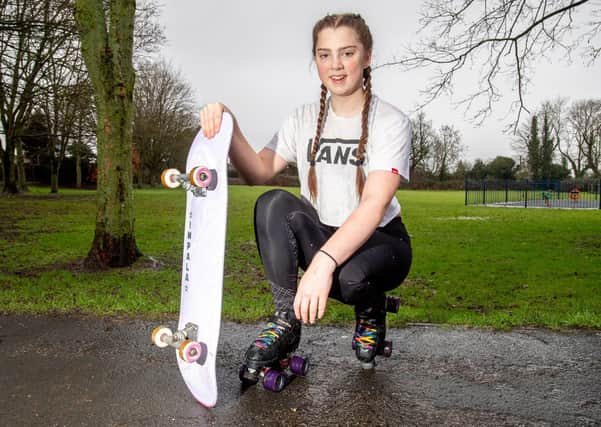 And councillors are facing a formidable challenge because 17-year-old Lyra Waters, who attends Queen Elizabeth's Grammar School, is a double Great Britain international roller-skater.
She believes the council acted too hastily on the £250,000 project in Prospect Street after failing to secure funding and public support. Lyra, who has represented GB in roller-skating and the ultra-tough sport of roller derby, says Horncastle deserves a new sporting facility.
She suggests forming a community organisation to drive the idea forward.
Lyra, of Horncastle, said: "It wouldn't only be a skate park - there would be things for people of all ages to enjoy. There's nothing for teenagers and we're not all vandals.
"I started roller skating when I was eight and no-one else did it.
"Now, loads of people enjoy some form of skating on wheels, whether it's roller skating, skateboarding or even bikes. Other towns have skate-parks so why can't Horncastle?"
Lyra launched a campaign on Facebook and immediately attracted more than 800 likes.
She said messages of support were still arriving every day. She added: "It's been an amazing response.
"There were a few who were against but the vast majority said it was a great idea.
"It is going to be difficult but if you don't try you don't get anywhere."
Lyra was scheduled to represent GB in the World Games in Canada last year but the event was cancelled because of Covid-19. She hopes it will be re-scheduled later this year, pandemic permitting.
She also plays Rugby Union at a high level and coaches young gymnasts at a club based at Banovallum School.
The council spent more than two years trying to set up the project and called in a specialist company to help.
Councillors earmarked £50,000 but funding applications to outside bodies failed.
Now, some of that £50,000 could be diverted to other projects, including a campaign to keep the Youth Centre open and repair a damaged spire at the Cemetery Chapel.
Lyra was due to speak to councillors at their monthly meeting last night (Tuesday).
She confirmed she had contacted Coun Dominic Hinkins who is leading the Youth Centre working group.
Coun Hinkins, stressing his views did not represent the council, said: "I have spoken to Lyra and explained we had put out appeals for skaters and other interested residents to come forward but we only received a single enquiry.
"We interpreted this to mean there was not much support in the town for the facility and we would need to plan something ourselves.
"I hope the Town Council would welcome the formation of a community group or would still be happy to have residents join a committee.
"One of the challenges we found was we appeared to be a council engaged in a project the community was not really behind, because most funders prefer to support grassroots campaigns than councils.
"I think this is now the best way forward and I am sure any new group would enjoy the full support of the council and I would personally press for them to be allowed to build on the Prospect Street site - if they were able to demonstrate the community demand the Town Council was unable to galvanise."