Lincolnshire businesses urged to consider the sustainable disposal of unwanted items
Lincolnshire businesses are being urged to consider the sustainable disposal of unwanted items after alarming new research showing that UK organisations spend twice as long on buying new things rather than responsibly dealing with equipment they no longer need.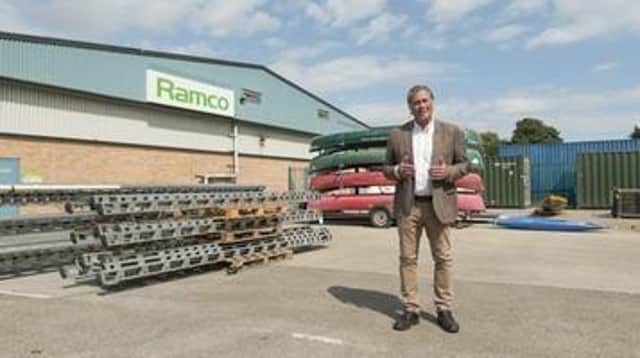 Conducted by Censuswide, Ramco's research further reveals businesses are responsible for dumping 20% of what ends up in landfill. nearly a third (31%) of Senior Managers in the UK who send unwanted items to scrap or landfill say that being more sustainable is not a priority for their organisation.
Ramco, which is based in Skegness, has been powering the 'circular economy' since 1996, with Government departments and businesses alike trusting the company to 'find value' in their equipment that's no longer needed – from electrical goods and plant or machinery to catering and fitness equipment
You'll find anything from church pews, nursing beds and digital television transmission systems to refrigerated insulated containers and ex-traffic officers vehicles from National Highways in the company's auctions and sales listings.
Neil Sanderson, founder and MD of Ramco, says action is needed and businesses must take accountability for extending the life of their unwanted equipment.
"If businesses want to be sustainable, this ratio needs to change", says Neil. "We're urging Lincolnshire businesses to place the same value on the sustainable management of outgoing equipment as on the procurement of new items," he said.
"We're in a climate crisis and yet UK business operations are still running in a way that causes so much unnecessary waste. Shiny new kit is exciting, but the outgoing equipment still holds so much value and, with consideration, can go on to realise its full potential with a new owner.
"It's disheartening to discover 1 in 5 UK businesses still send working equipment to scrap or landfill rather than giving it a second lease of life in a new home.
Of course, organisations need to keep their facilities up to date or bring in more efficient technology, but the outgoing equipment still has potential and holds precious value.
"Some 70% of organisations say they have working equipment sitting idle – good stuff they just no longer need," said Mr Sanderson. "We need to ensure these assets don't go into scrap or landfill and instead are rehomed and put back into circulation to fulfil their product lifecycle".
At the beginning of his career, Neil worked in manufacturing for several years and knows exactly what goes into making new equipment. He said: "The raw materials, the energy and labour; all that value is precious, and we believe it should be preserved for as long as possible."
"We've seen a booming second-hand market in recent years, and it shows no signs of slowing. Our customers are buying everything from vehicles, plant and machinery, to gym equipment and forklifts. With the cost of doing business continuing to rise, now is a great time to sell redundant assets".
The research results have been shared by Edie – a media brand that empowers sustainability, energy and environmental professionals.