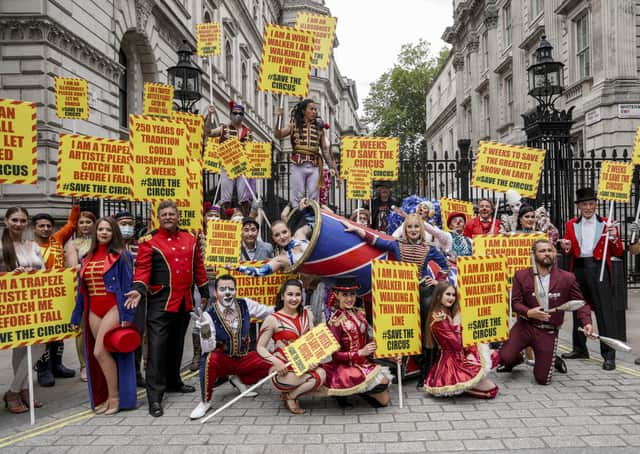 The circus, which boasts a multi-national cast of award winning performers, is currently sat waiting to open at its regular summer location in Mablethorpe.
Mablethorpe holds a special place in the circus director Rusty Russell's heart, as it is his home town.
This week, Rusty said: "I have spent thousands of pounds on making sure we can be fully covid compliant so I can fully protect my customers and also my staff.
"We have had hand sanitising stations made as well as implementing many changes to the day-to-day running of the circus to ensure everybody is safe.'
The circus feels they should not be classed in the same sector as the theatres as they are technically an outdoor venue.
Rusty added: "Its such a shame that as an art form circus is sadly forgotten about.
"The side wallings of the big top can be lifted to aid ventilation, and all of our facilities such as toilets, box office, and catering are outside."
The circus is also going to be using a brand new big top which they have acquired especially for this situation, which allows them to spread seating much more inside to adhere to the social distancing rules. All the circus performers and staff have been isolating in their own social bubble since the start of the lockdown.
The clock is ticking for the circus - if they do not soon receive the permission to open, its days could be numbered and may never re-open.
On Tuesday July 7, Rusty and his performers marched to Downing Street with various other UK circuses to present the Prime Minister with a letter explaining the current situation and asking for help.
Rusty said: "We do not wanting hand outs, all we are asking is to be allowed to open our circus and entertain the public in a safe environment.
"The circus is a British invention over 250 years old and it would be a shame for this to be the end of the road.
"Missing the summer season would be devastating for the circus as this would contribute around 80 per cent of its yearly takings.
"The circus is not entitled to any of the recently released arts funding from the Government, and simply wants to open its doors and entertain!"