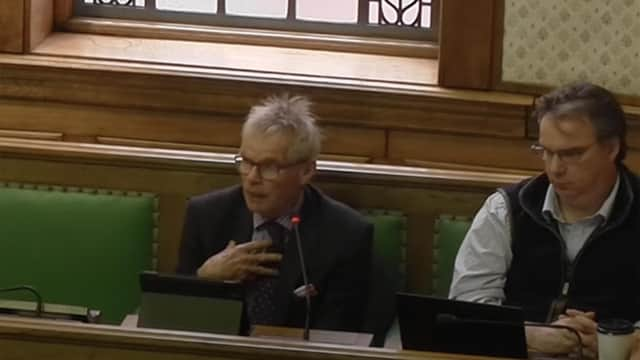 Councillor Martin Hill said the water company is the worst offender for road closures without reason. Anglian Water said they prioritised worker safety, but understood frustration about disruptions.
The company was fined £168,850 last year for leaving out rogue signs and overrunning highways works, with a total of 571 permit-breaching days in 2021-22.
The concerns were raised at a meeting of the Flooding and Water Management Scrutiny Board.
"We have a massive issue with the way Anglian Water closes roads for a whole week just to change a water meter," Councillor Hill told the meeting.
"Five teams will come along to do the various stages and the road will be closed the whole time.
"In my village, a road has been closed for a week to change a water meter. People were still let into their homes because there was no work happening.
"We need to have an honest conversation about how all utilities carry out work, although Anglian Water are the worst. People should be protected but road don't need to be closed for long periods.
"I don't buy the 'safety of workforce' argument – if no one's there, there's no one's safety to consider."
He added: "This sometimes happens with our own workforce too when signs are left in the road after work's finished. Everyone needs have common sense."
Jonathan Glerum, Anglian Water's Flood Risk Manager, responded: "Health and safety has to be absolutely paramount but disruption to communities need to be considered."
He promised to convey Councillor Hill's concerns to the company.
Anglian Water was also grilled over the discharge of waste water into Lincolnshire waterways.
The flood risk manager said: "We take our responsibility for looking after the environment extremely seriously and it's disappointing whenever we have to discharge.
"Unfortunately sometimes it has to be done to protect from flooding. People say to block up the storm overflows, but if we did that, thousands of homes would flood.
"We are committed to reducing the impact that any storm overflows have on environment.
"We are carrying out really significant investment to reduce the impact."