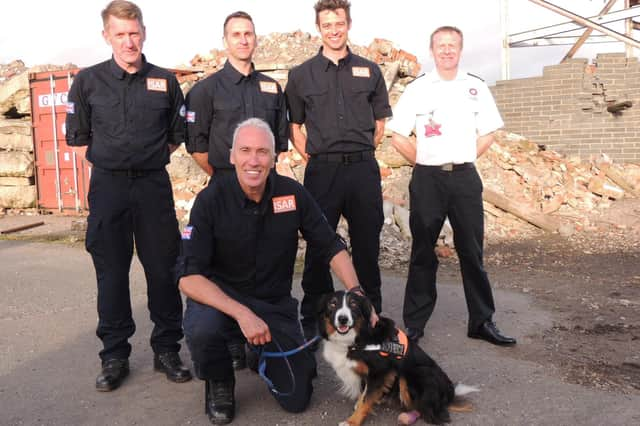 The foursome – part of a 77-strong team of specially trained firefighters from the UK with heavy equipment and four search dogs – landed to a watercannon salute from fire engines at Stansted Airport late on Wednesday night (February 15) after spending eight days deployed to the Hatay province, working alongside numerous other international search and rescue teams in the worst hit city of Antakya in southern Turkey.
More than 40,000 people are known to have died in the two quakes that hit Turkey and Syria on Monday February 6.
Group Manager Ashley Hildred, Sleaford Crew Manager Colin Calam, Lincoln South Crew Manager Mark Dungworth and dog handler Neil Woodmansey and his dog Colin, from Sleaford enjoyed a well-earned day of rest before telling of their experiences of working in gruelling conditions for many hours at a time, seeking survivors in the rubble.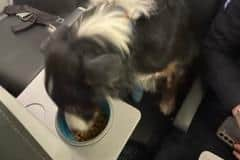 Although having been a trained member of the UK ISAR team for some time, it was the first international deployment for Colin Calam to a disaster zone. He recalls: "It was a scene of utter devastation. The scale out there you cannot put into words or even pictures. It was overwhelming and is going to take a long time to get back to normality and the long term effects I have no idea.
"We have seen so much sorrow and sadness all day long."
He and his British colleagues were split into four teams of 15 and sent off to various sectors, calling in other teams if they needed assistance.
Colin, 43, explained: "In each team we had an interpreter, which was invaluable. Each time you arrived at a collapsed building you would be swamped by relatives wanting you to do something and the interpreter got the rough end of that with people shouting at her."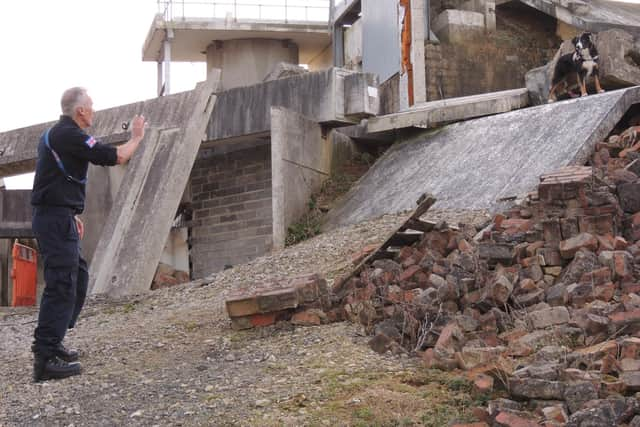 He explained they would work alongside a Turkish rescue team. On arrival at a new scene they would assess the situation to see if there were any voids where survivors could be trapped, then they would send in a search dog and if they got a positive 'hit' a rescue team would go in. As a team they managed to rescue nine survivors.
Colin and Neil were involved in the discovery of a man and woman survivors trapped in a hotel where the centre section had collapsed. In total the rescue took 18 hours. Colin said: "We had to break through the wall of the neighbouring building. We worked on it for 12 hours until being relieved. I was talking to the woman through the wall. An hour later a hand came through the rubble and it was a win."
But the rescue had not been without risk. Colin was deep in the tunnel when the evacuation whistle blew as there were reports of an explosion. "I had to get back out and we ran for our lives. It was the most scared I have been in my 22 year career," he said.
They also had to contend with daily aftershocks which he described as "strange feeling".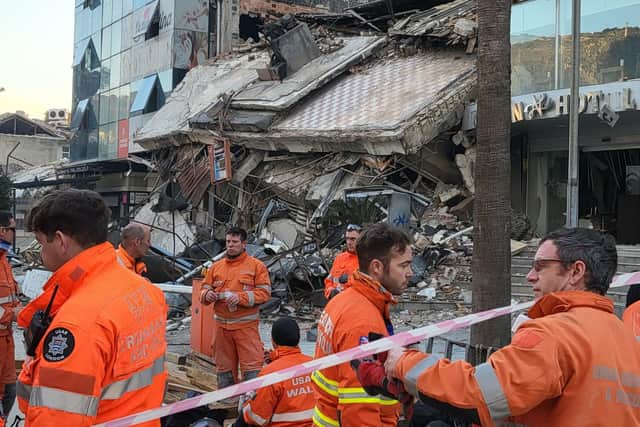 The team are totally self-contained to avoid overstretching local resources and brought their own food ration packs and water, tents and sanitation and camped in night-time temperatures of -5C in a football stadium car park with other rescue workers from France, Italy, Serbia, China, Australia and the Netherlands. And yet Colin recalls the kindness of locals: "They had lost everything but were still coming up and offering hot soup, tea and sandwiches – amazing people."
The team really appreciated the messages of support from back home via social media, none more so than Colin, Neil's search dog, who suffered a bad cut to his paw on the second long day of searching.
Neil said: "Colin had done 20 big searches and we were at another building. Someone heard voices and Colin managed to get into a bedroom through a foot-wide gap where there was a smashed mirror. There were no signs of life but I discovered his paw was cut down to the tendons, it was awful, but the medics cleaned and bandaged him up and he still wanted to go on searching."
He was stitched up and rested the next day before getting back out working. "He did a cracking job," Neil said proudly. "We were doing 18 hour days. He was crawling into areas I was concerned he wouldn't get out of but he loves it and all four dogs from UK did wonderfully well."
Neil worked with Colin Calam in the collapsed hotel and were in the team digging in the tunnel that first heard the man and woman's voices through the rubble: "It was a wonderful feeling to hear people alive," he said. "That will stay with me, hearing that woman shout back. That is why we do this."
Neil was the only experienced member of the four to have worked on international disaster rescues, having travelled to Pakistan and Haiti. He also praised the generosity and welcome of the Turkish people, despite the destruction and despair: "To work alongside them was an honour and a privilege."
Group manager Ashley Hildred explained that his role as a coordinator had been nearly impossible to begin with due to the lack of infrastructure or communications networks and so he joined the assessment and search crews, passing back information to other teams.
After a couple of days he stepped back and coordinated efforts and equipment with other international teams including China, Oman and Croatia.
He said: "Training can never prepare you for the human responses and interactions of family and friends who have lost loved ones and you are their last hope. My role was to have those conversations and decide which houses had signs of life to commit resources or when to decide to move on."
Ashley said it was heartbreaking when telling people he could not help and such experiences would stay with him for a while. He said the rescue phase was coming to an end and the recovery phase was kicking in, but admitted: "For us to leave was a difficult decision but there were fresh rescue teams coming in to carry on that operation and moving on to humanitarian needs and longer term effects which will take months and years."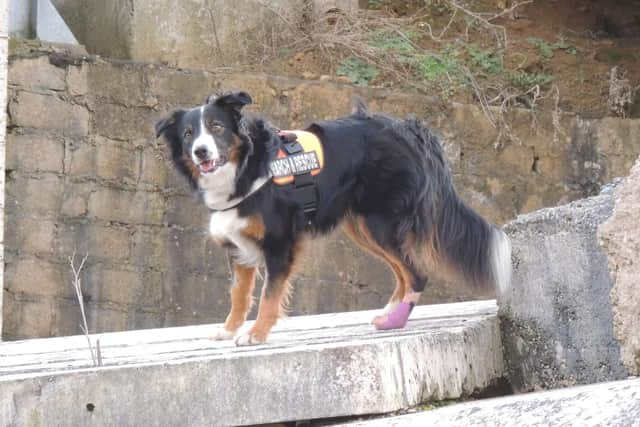 Their Chief Officer of Lincolnshire Fire and Rescue, Mark Baxter said he was filled with "overwhelming pride" at "the courage and empathy they have displayed showcasing the skills in search and rescue they have applied in really difficult circumstances."
But he added to it relief they were back safe and well, knowing they had made a difference to the people of Turkey.