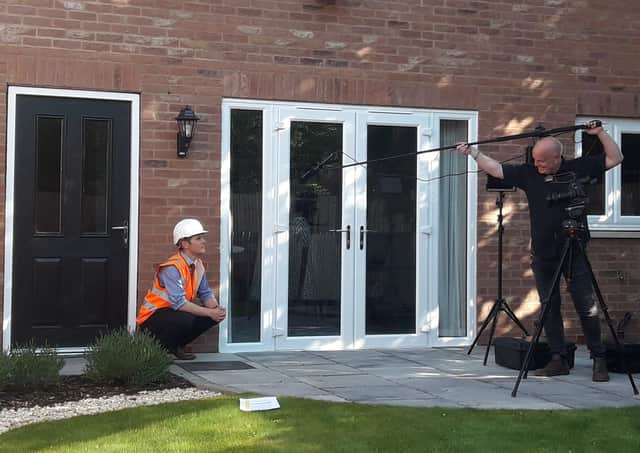 Chestnut Homes is currently building in Alford, Bardney, Boston, Coningsby, Dunholme and Lincoln.
The company, which builds exclusively in Lincolnshire with over 350 employees and contractors across the county, has put the safety procedures in place to enable staff to resume working on site and for customers to continue their homebuying journey.
As part of the measures, all visits to sales offices and showhomes will take place strictly by appointment only and floor markings, signage and sanitising stations have been introduced inside the marketing suites.
The housebuilder has also provided construction teams with Personal Protective Equipment (PPE), introduced sanitising measures and safe working areas as well as investing in signage on its sites to remind staff and contractors of the safety measures in place.
David Newton, Managing Director of Chestnut Homes, said: "Over the past few weeks we have invested heavily to equip our developments with all of the necessary infrastructure to allow our staff to return to work safely.
"Additional staff have been recruited to control access to our sites and carry out the additional cleaning routines that we have put in place.
"We have carefully planned routes throughout our showhomes to ensure social distancing can be maintained while still allowing visitors to engage with our friendly sales advisors to help them make the right choice of new home.
"The safety of our staff and customers is always our top priority. Our teams have worked tirelessly to provide the constructions sites, marketing suites and show homes with the necessary equipment and signage to ensure the safety of everyone at our developments.
"We are extremely pleased that following these efforts we have been able to welcome our team members back to work. This is good news not only for the hundreds of people that work for us across Lincolnshire, but for the wider Lincolnshire economy."
In order to maintain social distancing, Chestnut Homes has also produced a new 'home demonstration' video for buyers to watch as a safe alternative to being shown the workings of their new home in person by the site manager or sales advisors.
Mr Newton said: "Recording this video ensures that we continue to communicate well with our customers while keeping everyone safe.
"The home demonstration is one of the key parts of the homebuying journey where customers can familiarise themselves with their new house.
"This video is a safe alternative which buyers can watch in their own time and features two of our site managers explaining how everything works within our homes, from fixtures and fittings to boilers and central heating.
"An additional benefit of the video is that buyers can refer back to it in the future, so I am sure it will prove valuable to all of our customers even after lockdown ends."
For more information, visit chestnuthomes.co.uk