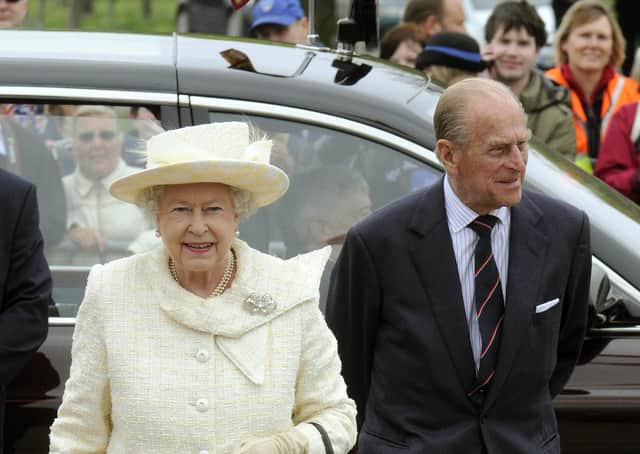 The Royal Family issued a statement on Twitter just after 12pm.
In the statement it said: "It is with deep sorrow that Her Majesty The Queen has announced the death of her beloved husband, His Royal Highness The Prince Philip, Duke of Edinburgh His Royal Highness passed away peacefully this morning at Windsor Castle.
"The Royal Family join with people around the world in mourning his loss."
Leader of Lincolnshire County Council, Councillor Martin Hill, said: "This is an extremely sad time for the entire nation.
"As the husband and loyal consort of our longest serving Monarch, he provided immense support and presided over numerous public engagements until he stepped down from his duties in 2017.
"We were very fortunate to host him several times over many decades, enabling him to see our county at its best.
"From visiting the East Coast after the devastating flooding in 1953 to the opening of facilities at Bourne Grammar School in 2013, he has shown support for our communities in Lincolnshire many times
"As well as public events, privately he visited the county many times – mainly RAF Cranwell to support his grandson, Prince William, who was training to become an RAF pilot.
"Not only did he visit often, his well recognised 'Duke of Edinburgh' scheme also ran in the county, which made a huge difference in enhancing the lives of many of our young people.
"The Duke was an enigmatic character and will be greatly missed by all who knew him."
Leader of East Lindsey District Council, Councillor Craig Leyland, said: "Deepest respects to our Royal Family on the sad news of the death of His Royal Highness The Duke of Edinburgh. God Save the Queen."
Chief Constable at Lincolnshire Police, Chris Haward, added: "As servants of the Crown it has been an honour to serve HRH Prince Philip as he stood alongside HM the Queen. Our condolences go to the Royal Family."
In a statement on Twitter, the Lincs and Notts Air Ambulance said: "We are saddened to hear about the death of His Royal Highness Prince Philip, Duke of Edinburgh. Our thoughts are with @RoyalFamily at this sad time. RIP Prince Philip."
Toby Dennis, Lord-Lieutenant of Lincolnshire, said: "Since 6 February 1952, HRH The Duke of Edinburgh has been Her Majesty The Queen's 'strength and stay all these years'.
"Every day of their 73 years of married life Prince Philip has supported Her Majesty in all aspects of our present day Monarchy.
"President or Patron of over 780 organisations and his legacy of The Duke of Edinburgh Awards scheme demonstrates his public work for which the national is eternally thankful.
"His passing will make us even more willing to serve Her Majesty, her heirs and her successors."
Michael Scott, Lincolnshire's High Sheriff said: "I share the sadness of people across the globe following the passing of HRH The Duke of Edinburgh.
"We remember with affection and gratitude the lifetime of service he has given as consort to Her Majesty The Queen.
"Before he stepped down from royal duties in 2017, he had attended over 20,000 events and we have been lucky enough to have welcomed him to Lincolnshire on many occasions going back to the 1950s.
"Whether it was supporting communities hit by devastating floods or the opening of major landmarks, he showed great humility, understanding and interest in our county."
The Union Flag will be flown at half-mast at County Offices, Newland, Lincoln until 8am on the day following the funeral – anticipated to be Saturday 17 April.
Responding to the death of His Royal Highness Prince Philip, Duke of Edinburgh, today, Councillor James Jamieson, Chairman of the Local Government Association, said:"On behalf of all councils across England and Wales, I'd like to express our sincere condolences to the whole Royal Family.
"Councils will be putting into place local arrangements to support the public in expressing their own sympathies, such as opening books of condolence, flags being flown at half-mast and the laying of flowers in public areas."
The Freemasons, including Lincolnshire Freemasons, said: "The Freemasons are deeply saddened to hear of the passing of Prince Philip this morning and we extend our sincere condolences to Her Majesty The Queen and the Royal Family.
"His Royal Highness The Duke of Edinburgh started his life in Freemasonry in 1952, at the age of 31. He was initiated into Navy Lodge, No 2612, on 5 December.
"On 6 March 1953, HRH Prince Philip progressed to the Second Degree of Freemasonry, before advancing to the Third Degree on 4 May 1953.
"The United Grand Lodge of England (UGLE) issued his Grand Lodge Certificate on 7 May that same year and he has remained a member to this day.
"The Duke of Edinburgh was born in Corfu on 10 June 1921, the only son of Prince Andrew of Greece and Princess Alice of Battenberg. He therefore also held the title Prince of Greece and Denmark.
"Prince Philip joined the Royal Navy as a cadet in 1939, following in the footsteps of his grandfather, Prince Louis, who was Admiral of the Fleet and First Sea Lord. He had a long and successful career in the Navy and rose to the rank of Commander.
"Prince Philip was also a qualified pilot and was the first member of the Royal Family ever to fly out of Buckingham Palace in a helicopter.
"The Duke of Edinburgh was known to drop into meetings at his Freemasons Lodge almost unannounced.
"Navy Lodge has a storied past and an amazing roster of luminaries appear upon its membership roll. The Lodge prides itself on being the premier Naval Lodge in the world, with an unparalleled history that includes four monarchs as past members – King Edward VII, King Edward VIII, King George VI and King George II of the Hellenes.
"The Duke of Edinburgh was patron or president of some 800 organisations, with special interests in scientific and technological research and development, the encouragement of sport, the welfare of young people, and conservation and the environment.
"Freemasons can also count other members of the Royal Family among their number, including HRH the Duke of Kent, who is the longest-serving Grand Master of the UGLE.
"As well as members of the Royal Family, Navy Lodge can proudly name three winners of the Victoria Cross among its past and present members; numerous Admirals, Generals, Vice-Admirals and Senior Officers; as well as other notables such as Sir Ernest Shackleton, Robert Scott – known as 'Scott of the Antarctic' – and many more.
"Elsewhere, there is also a Duke of Edinburgh Lodge, No 1182, Liverpool, which was issued a warrant on 2 July 1867 and was consecrated on 1 August 1867. The Lodge was named after Prince Alfred Ernest Albert, who was then Duke of Edinburgh. He was born on 6 August 1844, the second son of Queen Victoria.
"In addition, there is a Duke of Edinburgh Lodge in London, No 1259, which was consecrated on 4 May 1869. The Lodge was also named after Prince Alfred Ernest Albert, who became Duke of Edinburgh in 1866."
Bishop of Lincoln, The Right Reverend Christopher Lowson, said: "In hearing the news of the death of His Royal Highness, The Prince Philip, Duke of Edinburgh during this Easter season, the most important contribution we as Christians can make is to pray for him, that he will rest in peace and rise in glory.
"As a diocese we, of course, also hold the Her Majesty the Queen and the Royal Family in our prayers in their bereavement.
"Prince Philip was a devoted husband, father, grandfather, and great grandfather.
"He lived a life characterised by duty and in his support of the Queen over many years, of self-effacement.
"For many generations Prince Philip has been at the heart of our life as a nation, empire and commonwealth. He will be greatly missed by many parts of our community life.
"Today is a day of grief but also a day of thanksgiving for all that His Royal Highness have given to us as individuals, as subjects of our nation and as citizens of the Commonwealth of Nations.
"Father of all, we pray to thee for those whom we love, but see no longer.
"Grant them thy peace; let light perpetual shine upon them; and in thy loving wisdom and almighty power work in them the good purpose of thy perfect will; through Jesus Christ our Lord. Amen."