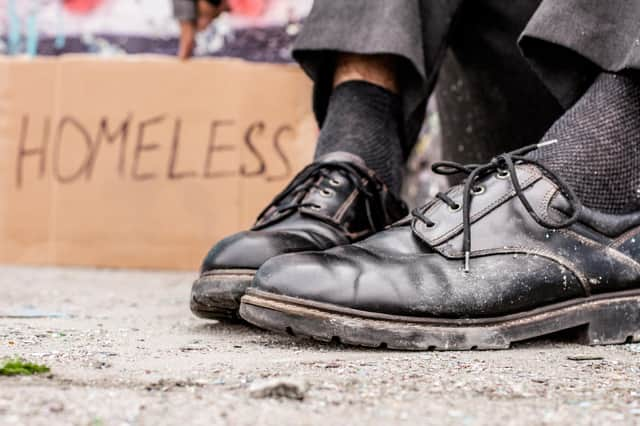 The money could go towards emergency housing, help with securing deposits or mediation to stop people from being evicted.
There are estimated to be 35 to 40 people sleeping rough on Lincolnshire's streets at any one time, according to council figures, but numbers have reportedly halved since 2019 thanks to new initiatives, although the cost of living crisis presents new challenges.
East Lindsey District Council, which sees an increase of rough sleepers in Skegness and Mablethorpe during the summer, will receive the highest funding in Lincolnshire with a total of £878,442.
North Kesteven is set to receive £498.338 and South Kesteven £728,152, while South Holland is to receive £353,614, and Lincoln City Council will receive the next highest amount at £803,422.
The government funding will be spread across the next two financial years to help existing teams.
The South East Lincolnshire Partnership – which encompasses East Lindsey, Bosto Borough and South Holland District Councils – say the funding is welcome boost to their efforts.
Councillor William Gray (Portfolio Holder for Communities at East Lindsey District Council), Councillor Martin Griggs (Portfolio Holder for Housing & Communities at Boston Borough Council) and Councillor Christine Lawton (Portfolio Holder for HRA & Private Sector Housing at South Holland District Council) said: "We know being homeless or threatened with homelessness can be very frightening and cause anxiety and stress. Our teams work with partner agencies and are committed to doing everything possible to advise and assist vulnerable residents with their housing options.
"This additional funding announced by the government is a welcome boost to help our teams across the partnership support some of the most vulnerable people in our communities over the next two years."
The City of Lincoln Council say they are currently planning how the funding will be used, and the homelessness and rough sleeping strategy will be discussed at the council's policy scrutiny committee today (Tuesday).
The government is distributing a total of 654million to councils across England.
The Minister for Housing and Homelessness, Felicity Buchan said: "Everyone should have a safe and secure home. This government is determined to prevent homelessness and to get vulnerable families and individuals the support they need.
"Whether it's emergency housing, support to pay a deposit, or mediation to prevent eviction, the package will provide help to those who need it the most at the discretion of those who know them best."