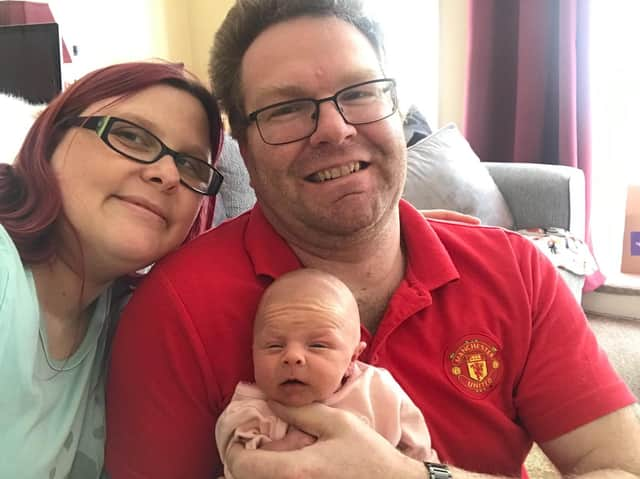 Proud parents Joleine Taylor and Gary Kirby with baby Lacie Mai.
Lacie Mai Kirby was born at Pilgrim Hospital in Boston on Saturday, April 11. Weighing 5lb 6oz, she didn't keeping proud parents Joleine Taylor and Gary Kirby waiting for her arrival long at all.
"Gary drove me over to the hospital on the Friday evening and my waters broke at 10pm. Lacie arrived at 12.45am so it wasn't a long labour even though she is my first baby," said Joleine.
"Even though we'd only been able to keep in touch with family and friends by phone we were still really excited about having a baby even though the Covid-19 lockdown had begun because we have always wanted a family.
"I just feel really blessed to have had a child."
Gary was ably to stay with Joleine until after Lacie Mai was born but was not allowed to stay with them when they were admitted on to the maternity ward. After managing a bit of sleep on that first night, Gary returned to hospital to take Joleine and Lacie Mai home at 4pm.
Since then Joleine, who is on maternity leave from B&M Home Store, and Gary, who has been furloughed from the Savoy Hotel until the business reopens, have been enjoying getting to know Lacie Mai at their home on Roman Bank.
Apart from al visit from a support worker and a health worker, the only outside contact they had initially was by telephone.
Joleine admits it has been tough not being able to see their family and friends in the first few weeks because of the Covid-19 restrictions.
Originally from Coventry, Joleine said: "We took Lacie Mai to see our parents on Wednesday when restrictions were eased and we were able to sit with them in the garden.
"But it's really upset me that they cannot hold her yet - we can't wait for that day to come.
"I think having a baby at this time is a symbol of hope for the future - and we have big hopes for Lacie Mai."