'Loss of faith' in police
Concerns over a rise in anti-social behaviour in Market Rasen and the visible lack of police in the town have been voiced by a town councillor.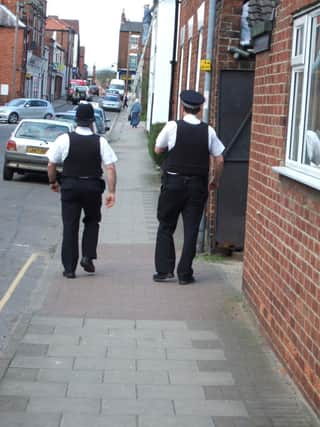 Coun Neil Taylor told fellow councillors at last week's council meeting that 'many' people had told him they 'no longer think the police are doing their job'.
The comments came after referring to an incident in the run up to Christmas, where two shops' windows were broken, leaving them boarded up over the festive period.
He said this is the latest in a number of incidents and, while Coun Taylor acknowledged the hard work undertaken by town mayor Coun Stephen Bunney on the issues, he said more needed to be done.
"I think there is a bigger picture now," he said, "and - I am choosing my words very carefully - parishioners have lost faith in the police."
Coun Taylor continued: "I am a great supporter of the police; my sister was a police officer, her husband was a police officer, but I think in terms of preventing these anti-social incidents, I think there doesn't seem to be enough reaction."
However, Coun Taylor's greater concern was for the future amid fears residents may take things 'into their own hands'.
He relayed an incident of a woman walking home in the evening when she was followed by a group of youths, who made sexual threats.
Coun Taylor said the woman was so frightened as to what her husband would do to the perpetrators, she never told him nor reported the incident to the police.
He added: "This scenario worries me. People are talking about taking the law into their own hands with the youths. But I have said no, we [the council] will follow this up."
As a number of these incidents are not being reported, they do not appear on the crime statistics and cannot be commented on by police.
However, a police spokesperson told the Rasen Mail: "We do take all reports seriously and will look into any issues the community has.
"Anyone with any concerns can call us on 101."
This week, Lincolnshire Police launched its new recruitment programme in a bid to train up more officers.
Meanwhile, the county's police and crime commissioner Marc Jones is urging people to report incidents.
He said: "The deployment of officers is, of course, an operational decision for the chief constable and is partly made using intelligence on where, and what type, of crime is occurring in communities across a very large county.
"That is why it is crucial that people report crimes when they occur. I would urge people to report incidents in order to help the force properly assess how best to use the limited resources they have available.
"In addition residents can report issues via the StreetSafe app which allows anyone to anonymously tell us about public places where you feel unsafe because of issues such as poor lighting, abandoned buildings, vandalism or threatening behaviour.
"That information is fed through to partners, including the police, and allows organisations to identify problems and seek to solve them. There are examples of where this has worked in Lincolnshire."
More info on the app can be found here https://www.lincs.police.uk/notices/street-safe/street-safe/