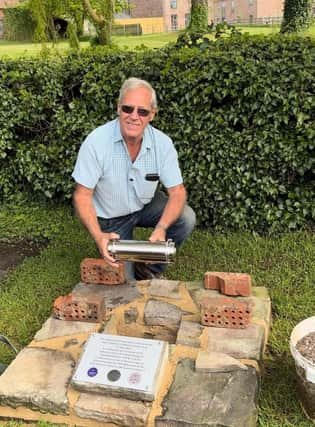 ​The villages of Alvingham and North Cockerington came together to celebrate King Charles III's Coronation on Sunday May 7, with a family fun day and hog roast at the village hall and finishing with a traditional sing along and the lighting of the village beacon.
To mark the occasion, rocks were decorated with creative pictures and positive messages which have been hidden around the village and beyond for others to find.
Spokesman Suzanne McFarland said: "Our hope is that people will find them while out enjoying a walk around our village and take them to a new location and hide them again.
"A Facebook page Alvingham Rocks has been set up to track our rocks which all display the hashtag Alvingham Rocks and we would encourage anyone who finds one of our rocks to post a picture on the page so we can see how far our rocks will travel."
To make the celebrations extra special, the villagers also added to their commemorative Time Capsule – which unearthed a problem as a bench was commissioned to be placed in the church yard to mark the millennium, and a time capsule was made by the residents, which was to be buried under the bench.
However, it came to light that the bench was sited before the time capsule was completed – so where was the 2000 time capsule buried?
After much detective work, an old photograph of the burial was found by a local farmer, indicating that the time capsule was in fact buried next to the stocks in the village centre.
A second time capsule, which was made to mark Queen Elizabeth's Platinum Jubilee last year but wasn't buried at the time, was buried there alongside the 2000 capsule.
The capsule contains pictures of the village's Jubilee Celebrations, information on what was happening in the world at the time, artwork prepared by the children of the village and a memory stick containing a copy of the book written by Phil Davies on the history of Alvingham and the memoirs of villager and farmer Phillip Shucksmith.
There are also photographs of the burials of both time capsules, along with the story of how neither were buried in the place originally intended.
A stone which is believed to have formed part of the Gilbertine Priory dating from 1100 AD has been positioned above the capsule as a permanent reminder of the location of both time capsules and also to commemorate King Charles III Coronation.