Louth & Horncastle MP Victoria Atkins outlines flooding support at summit
​Support for those affected by Storm Babet flooding, as well as plans for young and older people in our communities, were outlined at a summit held by Louth & Horncastle's MP.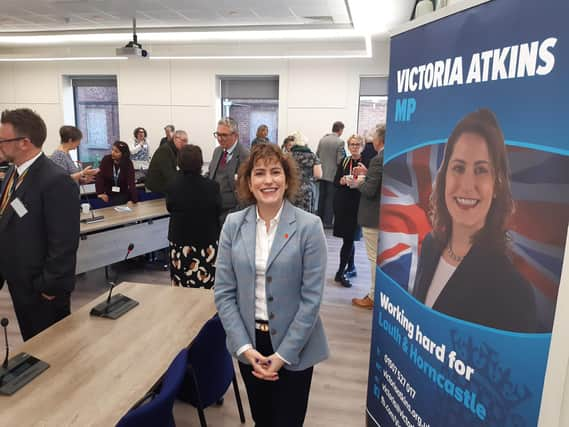 ​Following Victoria Atkins's Support Summit last year, the event returned for a second year this morning (Friday), this time held at The Hub in Horncastle, with organisations from across the constituency invited to come together and highlight the support available for families and adults in the area.
Together with Lincolnshire County Council's executive member for children's services Coun Patricia Bradwell and Coun William Gray, Portfolio Holder for Communities & Better Ageing at East Lindsey District Council, Ms Atkins said: "We've brought together people and organisations to network and share ideas and ensure people know where to go for help if you're facing an issue in your professional or personal work.
"I feel so privileged and proud to represent our corner of Lincolnshire in the House of Commons and I want to ensure we're all working together, to make life more enjoyable and as thriving as possible."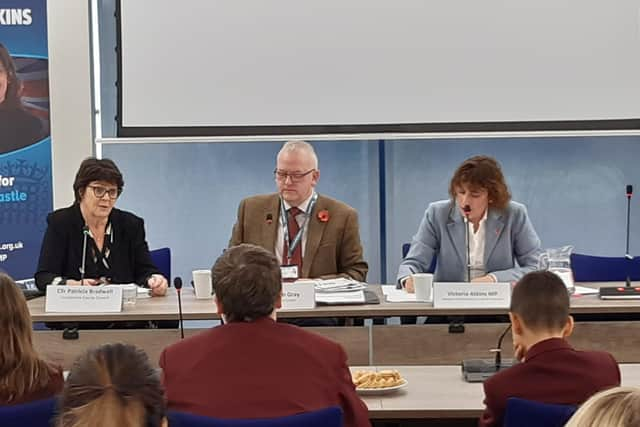 Ms Atkins said that the meeting came on the back of last year's successful event in Louth:
"If our experience last year I'd anything to go by people will be aware of the help out there by coming here today and people can understand that help is out there.
"We're going to be focusing on farming community as now the weather has receded many of our farmers there still under water and just with our businesses this is their livelihood and we're going to get answers from the EA about how farmers and drainage board can help the Environment Agency to prevent this happening again."
Ms Atkins outlined the support being offered to businesses and residents of Horncastle who were impacted by the flooding a fortnight ago, with flooded households in affected areas able to apply for up to £500 cash to help with immediate costs, and affected households and businesses will be eligible for 100 percent council tax and business rates relief for at least three months.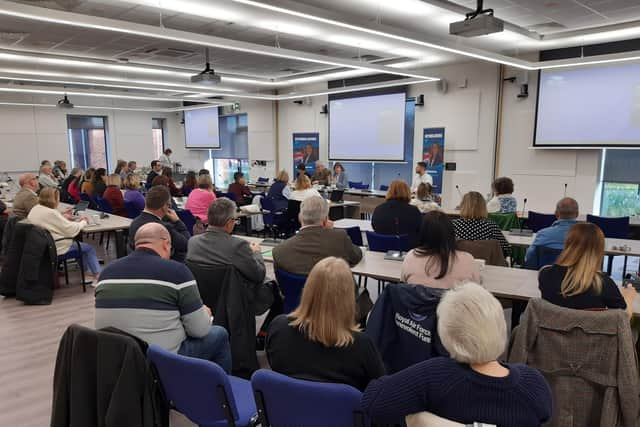 Small-to-medium sized businesses will be eligible for up to £2,500 from the Business Recovery Grant to help them return quickly to business as usual, and eligible flood-hit property owners can also make their homes and businesses more resilient to future flooding by applying for up to £5,000 in the Property Flood Resilience Repair Grant Scheme.
Ms Atkins was due to attend a meeting with local farmers and the EA after the summit to discuss the flooding which affected our town a fortnight ago.
"We're very conscious that there are people in the room who've suffered with the flooding, and we want to set out some of the help available, as now the shock and flood water has receded, now is the time to help," she said.
Coun Patricia Bradwell, in the first half of the summit which focused on young people, outlined the children's services the Council encompasses, as well as the Holiday Activity Fund that was championed by Marcus Rashford.
During the question and answer session, questions were asked of the panel, with representatives from local charities including BRIC and Children's Links asking for recognition of their organisations as they save money being spent in the health services.
Ms Atkins praised the "unsung heroes" of these organisations and they were urged to reach out for help if needed.
Students from Queen Elizabeth Grammar School (QEGS) were also present at the summit, and asked Ms Atkins if there was the possibility of expanding activity opportunities for youngsters in town, and how to increase volunteering opportunities for those looking to do their Duke of Edinburgh awards.
William Gray praised the conscientiousness of the students, and said there were already plans in place within the county council to offer more opportunities, which would be discussed at Horncastle Town Council meeting on Tuesday November 14.
Coun Terry Aldridge asked about the possibility of relaunching a children's politics scheme, which Mr Gray confirmed would also be looked into, and the possibility of expanding the youth centre provision at Wragby would also be explored to combat the rise of antisocial behaviour.
In the second session, attention was turned to provision for older generations, with both Mandy Elmer and Isabel Forrester, representatives of the Woodhall Spa and Horncastle food banks respectively, about how difficult many food banks now they no longer have the support of FareShare, yet food bank referrals were rising.
Ms Atkins said that much of the problems were down to inflation and that things were improving, with rates being lowered and that people should see their money go further.
The idea of a jobs fair for older people looking together back into work was suggested, with positive results, and Coun Jill Makinson-Sanders pointed out that it is not just the older generations that are struggling, but at Louths baby bank there were many 25-45 year old who struggle with life skills.
Ms Atkins said there are a number of family hubs which are aimed at families with children of all ages and not just babies where these kinds of life skills could be taught.
Chris Suich, wife of former ELDC head of Leisure and Tourism Bob Suich, then informed attendees of the new initiative that she is setting up in Bob's name called Bob's Brainwaves, which is a pack that can be distributed out to families and carers of those living with dementia.
It would be all the necessary forms needed to apply for funding and help, and also information of local groups and organisations that can offer support, due to be launched in January.
Ms Atkins said: "We must ask ourselves why this has not been done before? It will be a huge help to those people who are in a desperate time and will help a lot of people."