Louth Mayor's praise for Morrisons scheme during coronavirus crisis
The Mayor and Mayoress of Louth, Councillor Darren Hobson and his wife Sarah-Jayne, took the opportunity to visit the Louth Morrisons store last week to thank the supermarket's 'Community Champions Team' for their hard work and commitment during the coronavirus crisis.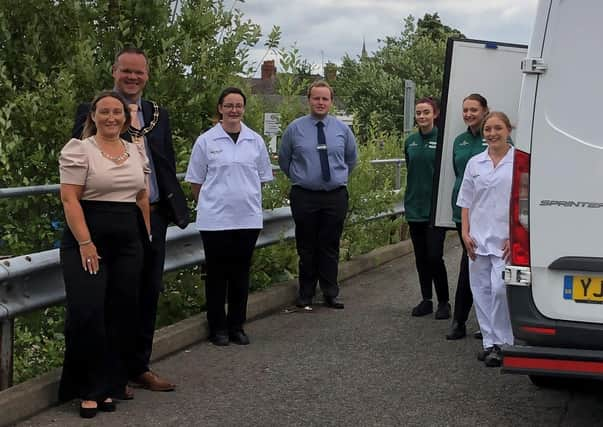 Since the end of March, the Community Champions Team have been taking telephone orders and delivering to residents who are shielding.
The store's duty manager Scott Gladding said: "In fact, the telephone calls themselves are taken by Amanda, a member of staff who was shielding herself and working from home!"
Kieran, the van driver of the Community Champions Team, starts her delivery round at 7am, which also includes care homes, covering an area as far as Sutton on Sea, and although there are usually between 10 and 15 drop-offs each day, at the height she was dealing with around 25 orders per day.
Alongside this scheme, every single week Morrisons has been supplying free produce to the Neighbour's Kitchen (based at the Priory Hotel) and the 'Community Larder' food bank at the Trinity Centre, helping those who are most in need.
Coun Hobson thanked all those who were part of the team, and said he hoped that the scheme, which was due to come to an end, would be allowed to continue to assist residents that were still feeling too vulnerable to shop in the town.