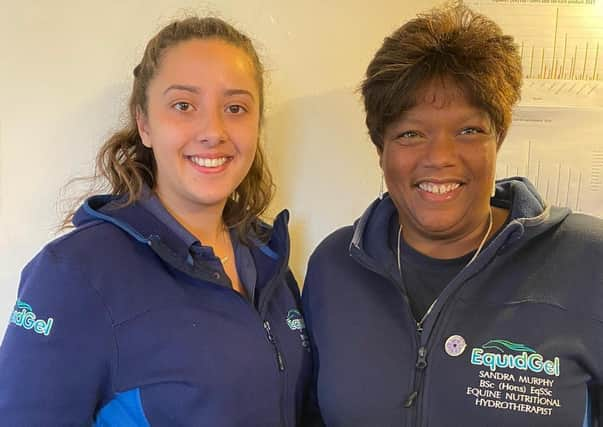 Sandra Murphy is founder and managing director of Equidiet UK Ltd, based in Nettleton.
She is also the first 'black female' to have gained a European Patent for a revolutionary equine feed in the UK.
No stranger to awards, last year Sandra was named the Entrepreneur of the year by the English Veterans and received the Legend Award 2019 for contribution to the community and humanity, given by Trinidad and Tobago Friends UK.
Speaking to the Market Rasen Mail, Sandra said: "It was extremely humbling to have been selected as a finalists living up here in the heart of rural Lincolnshire as it is a national award - focused mainly in London - and I just cant believe it that against all the odds I have actually won it.
"It is about time that black businesses are recognised because there are not many.
"I can use my platform and winning this prestigious award to say to black people 'come to the countryside, relocate here and get your children into the rural sports.'
"We have quite an influential role within the British Equestrian Federation Equality Engagement Group, helping to find solutions to tackle the many inequalities and lack of diversity within the equine industry."
For the seventh year in a row, the BBBAwards celebrated the outstanding achievements of Black British professionals and entrepreneurs, highlighting the community's commercial contribution to the UK economy and identifying formidable role models and mentors across a number of sectors.
The awards ceremony crowns a landmark year in history for racial equity and featured a special recognition for Black British frontline workers.
Melanie Eusebe, Chair and Co-Founder of the Black British Business Awards said: "After a year filled with so many challenges, it was rewarding to take a step back to reflect not only on the history of the Black community here in the UK, but also to celebrate the individuals who are making their mark now.
"Our Category Celebration events along with the Awards Ceremony provided us with many opportunities to reflect on how far our community has come, while recognising there is still much work to be done."
Sophie Chandauka, Co-Founder of the Black British Business Awards added: "Each of our finalists and award winners is a source of inspiration, highlighting the significant accomplishments and important contributions the Black community is making in every sector of the business world. They all deserve recognition for their accomplishments."