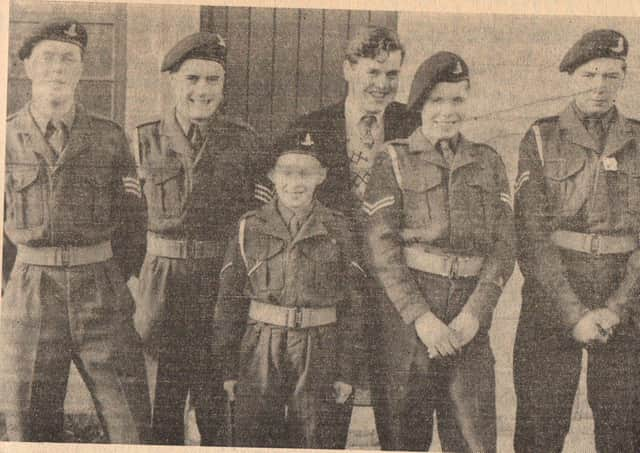 When the scheme was being first developed, they looked to national voluntary youth organisations to be part of the pilot.
It appears, that when the pilots reached Lincolnshire, it was Market Rasen that led the way
The Rasen Mail was contacted by one of the first six Lincolnshire cadets to receive their Bronze Duke of Edinburgh Award, an achievement reported in the paper on February 7, 1959.
Mike Allard, now aged 80 and living in Wiltshire, remembers working for the award.
He said: "Nobody knew anything about the Duke of Edinburgh Awards then.
"We just turned up one night and the CO said there was this new thing from the Duke of Edinburgh so we had to pilot it.
"They were piloting it through the ACF in Lincolnshire and two units were chosen; Market Rasen was one and the other was Lincoln Number Two.
"Lincoln didn't get off the ground, but we stuck to it and qualified."
Similar to today's scheme, the cadets had to complete fitness elements, hobbies, public service and an 'expedition'.
Mr Allard said: "We had to walk 15 miles and then camp out overnight - I remember it well as it was December.
"The CO said 'You'll be alright, only a fool is cold in camp' - and we did it."
The fitness element of the scheme is also etched in Mr Allard's mind.
"We had to go down to the Secondary Modern School where we were put through our paces by the PE teacher - his name was Smith.
"I struggled with have to get the 10lb over 30 feet, but got there in the end."
Mr Allard was a cadet sergeant when he got his award and then got a commission to take command for a short while.
After getting married, he moved to Lincoln and then to Horncastle, sending his working life at the County Council, before moving to Wiltshire at the beginning of last year.
Although it is more than 60 years since he completed his Bronze Award, it is clearly something he still holds dear.
He said: "It is a good scheme and I am pleased it is still going strong.
"For us, it was really just an extension of the Army Cadets, but we enjoyed being part of those early days and our commanding officer made some recommendations which were listened to."
This is how the Rasen Mail reported the Cadets' success back in 1959:
Market Rasen Cadets who are the first in Lincolnshire to receive awards under a vigorous experimental training scheme sponsored by the Duke of Edinburgh.
In the picture, from left, are Sgt D Fagge; Sgt M Allard; L/Bmdr J Morley; Staff-Sgt N B Goodyear; Bmdr E Smart and Bmdr P Arnett.