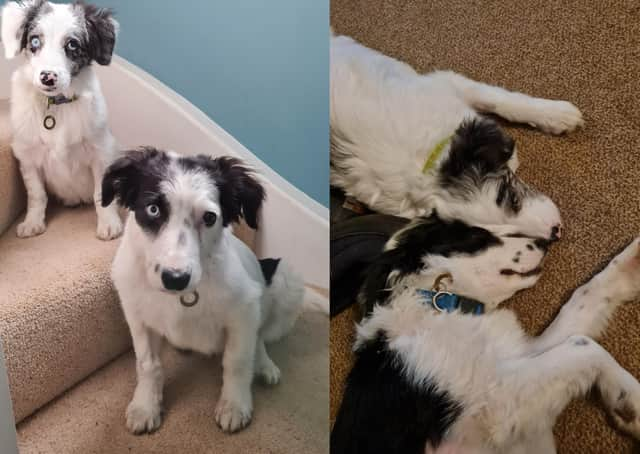 Rufus and Marlow. Picture: Sue Fellstead-Solley.
Sue Fellstead-Solley is keen to raise awareness of the issue after losing two Border Collie puppies to a hereditary disease.
Sue and her family welcomed 'brothers' Marlow and Rufus into their home last year.
Both puppies had Trapped Neutrophil Syndrome (TNS).
Fred. Picture: Sue Fellstead-Solley.
Puppies with TNS have an impaired immune system and will eventually die from infections they cannot fight. Sadly, this was the case for Marlow and Rufus.
The family made the difficult decision to put Marlow to sleep in January of this year and earlier this month said goodbye to Rufus due to TNS.
The Fellstead-Solley family say they are still coming to terms with the loss of Marlow and Rufus, but hope that by welcoming two new arrivals - Barney and Fred - they will help with the grieving process.
Barney and Fred are Border Collies but importantly, both parents have been DNA tested and do not have TNS.
Barney. Picture: Sue Fellstead-Solley.
Barney and Fred have also been vaccinated, wormed and micro-chipped.
Sue explained: "The breeder has given me all the information I wanted - it should be a standard that everybody can buy with confidence.
"It is a bittersweet feeling because we are so excited to have them and start our Border 
Collie journey but we are so sad that Rufus and Marlow are not with us."
Sue says the process of finding Barney and Fred has 'opened her eyes' to the money-making process of puppy selling.
Sue says she contacted several breeders - including Kennel Club registered breeders - selling Border Collies for upwards of £2,000, but no DNA testing had been carried out on the puppies/parents.
She said: "As soon as you are charging for a do, you have an obligation to the animal and the new owners to make sure there is nothing wrong with the puppy.
"If I was a breeder, I would look into whatever illnesses those dogs can be prone to.
"Sadly, many people just see it as a money making scheme."
The Rasen Mail contacted The Kennel Club for a comment.
Bill Lambert, Head of Health and Welfare said: "We always advise potential puppy buyers to use our UKAS-accredited Assured Breeder scheme to find their new four-legged friend, as members have to carry out mandatory health tests for dogs they breed from.
"All Assured Breeders have to adhere to breed-specific requirements and recommendations when it comes to health testing, and for Border Collies, this includes screening for multiple conditions including TNS.
"The rules of the scheme are clear that at least one parent must be tested clear of the condition which means that no puppies will be affected by TNS.
"Outside of our Assured Breeder Scheme, The Kennel Club provides tools, resources and health testing schemes which enable all responsible breeders to produce healthy and happy dogs, and we make health test data transparent to aid responsible puppy buying.
"The extra cost of compulsory DNA testing for all breeders could drive a substantial number away from registering their puppies, so they are bred under no sphere of influence, and in turn drive many puppy buyers towards disreputable sources and puppy farms."
'TNS is devastating and completely preventable by testing dogs before breeding'
Laura Jones is a Veterinary Surgeon at Rase Vets who treated Rufus and Marlow throughout their short-lived life.
Laura explained: "TNS is a devastating disease and one that is completely preventable by testing dogs before breeding.
"It is a relatively cheap and easy test to do and can save a lot of heartbreak down the line.
"Rufus and Marlow did not get to even a year old and the normal life expectancy for border collies is around 10-15 years.
"We did all that we could for them but unfortunately had to put them to sleep when their condition was just not being controlled to a sufficient level and their quality of life was too poor to continue."
According to Laura, one of the issues with TNS is that it is not a common diagnosis so symptoms in a puppy could be identified as 
something else.