Mark's 80-mile run after beating cancer
A marathon man who collapsed midway through an event he was running for Macmillan Cancer Support only to be told the shocking news that he had the disease too is now set to run 80 miles in 24 hours for the charity that helped him beat it.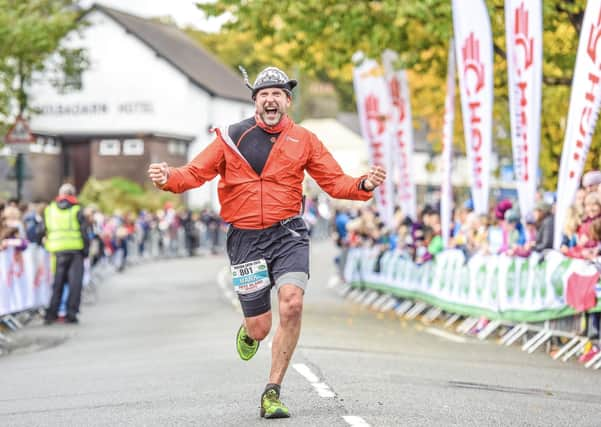 Mark Haynes, 46, an asset surveyor with North Kesteven District Council, was running the Authentic Athens Marathon in November 2014, from Marathon in Greece to the original home of the Olympics, The Panathenaic Stadium.
This was the second of his goal of 12 marathons in 12 months to raise money for Macmillan Cancer Support as he had lost a friend and his grandparents to the disease.
Mark said: "I collapsed at about 20 miles into that race.The pain was unbearable, but at that time I just thought it was because I was running a marathon and they are meant to hurt.
"Staggering and pushing myself onward I got to the finish line."
Having initially ignored the pain he was taken to hospital back in the UK having collapsed again twice at work. He was diagnosed on December 23, 2014. After tumour removal and treatment Mark immediately began training and running again, tearing his stitches in the process.
He said: "With one in two now affected by cancer, and suffering at the time from survivor's guilt, from then on it became about giving something back to those that helped me on my journey and if I could inspire just one person how important it is to stay active during a traumatic experience of any kind then it will all be worth it."
Mark got the cancer all clear this year, having set himself the goal of running 100 official marathons in five years since diagnosis. He was on course to hit his target in May but the coronavirus lockdown put paid to that with the cancellation of all events which means he is now stuck on 91.
Mark said: "I'm hopeful that I can hit my target soon as it looks as though marathons will be available again next month. Between times the work run I am planning will help me get fit again.
"After discovering bone lesions in my spine in January, which were ultimately confirmed to be benign, it has certainly been a tough rollercoaster, but I always try to stay positive."
Mark advises: "Smile, do the things that make you happy, eat that cake, drop a couple of pennies to my sponsorship page if you are able and above all else remember to check yourselves, both ladies and gents, for any odd lumps and bumps, get them checked, as early treatment can save your life.
He hoped he may inspire others to take the first step to staying active - be that a 5km or a lap of the garden.
He plans to run to every Communal Centre in North Kesteven and divide sponsorship money between Macmillan, the Lincs and Notts Air Ambulance and the NHS Lincolnshire Charity. His target is to raise £1.000 for each.
Mark said: "I came up with the idea when I was covering various personnel roles during lockdown."
He will attempt the run over Thursday August 27 and Friday August 28 starting and finishing at the NKDC headquarters in Sleaford, heading to Heckington, Billinghay, Metheringham, Heighington, Bracebridge Heath, North Hykeham, Waddington, Welbourn and Ruskington.
Mark has already raised £10,000 for Macmillan undertaking various events including climbing Kilimanjaro, running in the Sahara Desert and £3,500 for the Brathay Trust children's charity for running 10 marathons in 10 days. To support him visit: uk.virginmoneygiving.com/MarkHaynes